Renton quality produce grocery store adds UMC's hand washing stations at the door.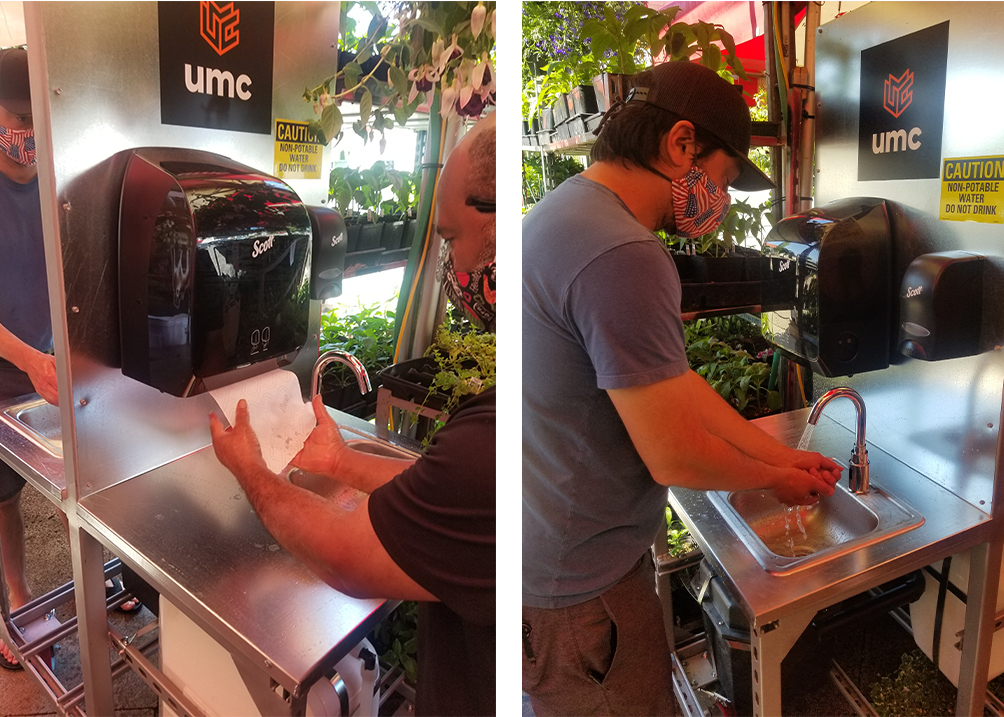 Top of the Hill Quality Produce and Meats in the Renton Highlands neighborhood has equipped their popular hometown grocery store with UMC's two-sink compact mobile hand washing station to better protect their customers and employees in this era of COVID-19.
As a family-owned and operated grocery store offering locally-sourced produce and meats, owners Damu and Jackie Maples have made it their mission to feed people and keep them healthy. Now they are taking that mission a step further with the installation of sinks at the door so customers can wash their hands upon entering and leaving the store for an added sense of wellbeing. Knowing that hands are clean as people handle the products in the store helps lessen customers' stress about the spread of COVID-19.
Jackie Maples calls their store a true "mom and pop" shop. As a favorite of Renton residents for many years, it's become a close-knit neighborhood gathering place.
"We hug our customers," said Jackie. "We know 90% of them by name and have watched many of their kids grow up and come to work here. It's been quite a culture shift today with COVID-19. There are lots of air hugs going on now."
Top of the Hill's business has tripled from normal during this time of year, especially since adding curbside pick-up as well. Throughout this busy time, the Maples have remained sticklers on keeping their store clean and healthy. They have a cleaning crew doing deep cleanings twice a week and are continuously sanitizing carts and other high-touch areas. And being a family-owned business, Jackie and Damu are often the cart sanitizers. The UMC hand washing stations are one more way to help keep the store as clean as possible.
UMC is a 100-year-old mechanical contracting company that plans, builds, and manages buildings, facilities and construction projects. When the coronavirus pandemic impacted typical operations at UMC, the UMC team decided to modify their offerings and produce these sinks to help during this crisis.
UMC's portable hand washing stations were carefully designed in compliance with CDC requirements and with the safety of communities in mind. The standard, two and four-sink, the compact two-sink and the single-sink stations include features that will ensure the most effective CDC hand washing recommendations are met. They were born to help with the increasing necessity for functional hand washing stations for construction sites, grocery stores, emergency hospitals, schools, retailers, industrial plants, homeless shelters...anywhere there is a need for many people to be washing their hands.
Questions or Comments?
For media inquiries or related questions, please contact info@umci.com