UMC's crews working on the Energy + Environment (E&E) group's L&I Phase 2 Energy Upgrades project are crushing it with flying colors! Our team members are showcasing their professionalism by effectively managing the project and delivering outstanding results. They are putting their expertise to work and exceeding expectations with their unwavering commitment and dedication to safety, quality, and client service.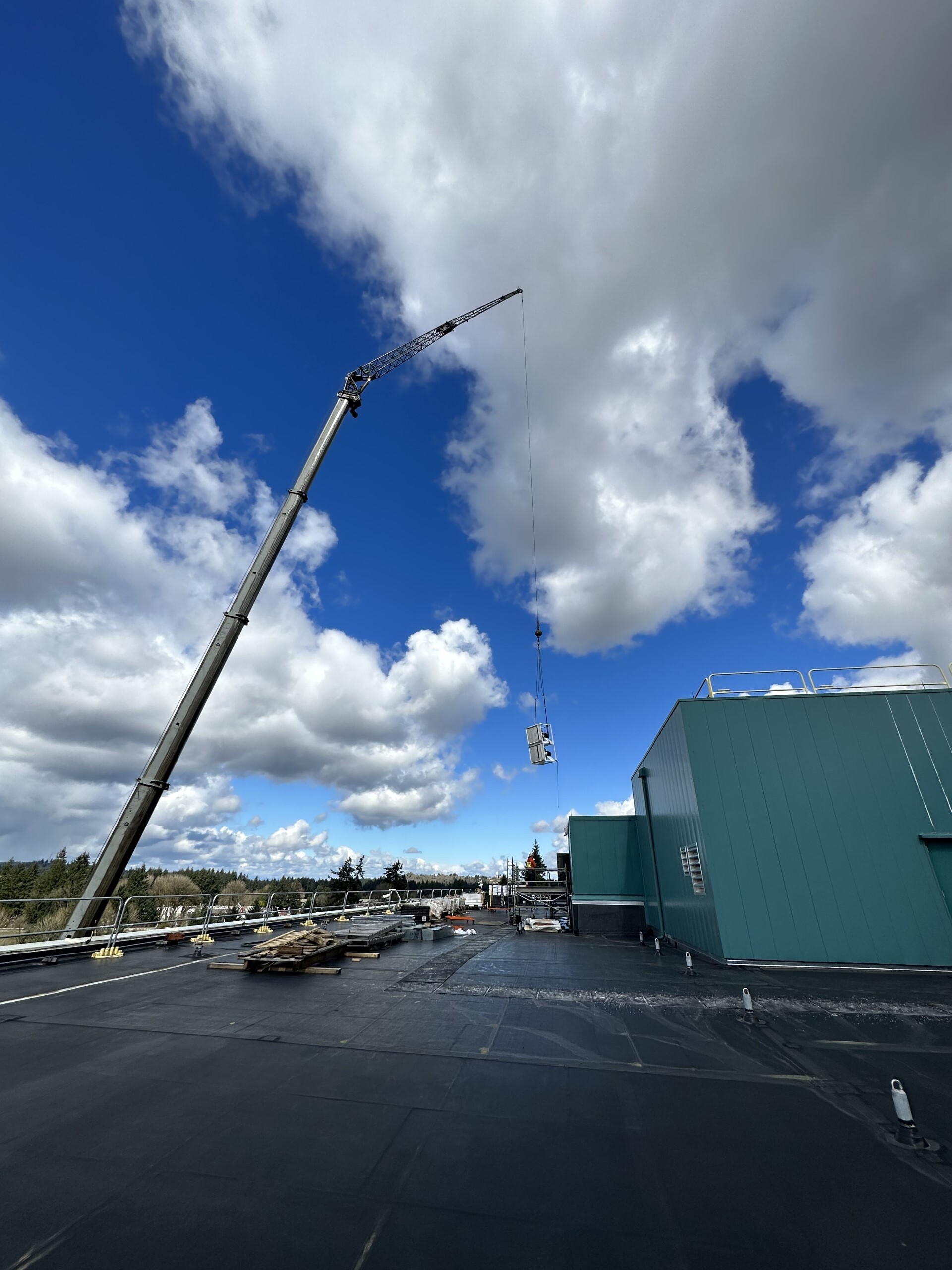 Keeping Cool and Ensuring Safety in Unexpected Situations
Crane picks come with increased risks, and UMC's foreman are diligently trained to ensure safety protocols are always taken. UMC recently completed an air handling unit (AHU) shutdown where a crane was being used to pick ten sections of fan arrays to replace the existing fans associated with the AHU on the L&I campus.
By embodying UMC's pride-based safety program, the foremen responsible for the crane pick were able to ensure everyone on site and in the area were accounted for and in the right places, at the right time.
Rallying the Troops to Help in an Emergency
L&I had an emergency sewer main issue not connected to our work while we were performing the shutdown on the above-referenced AHU. For this emergency, we were able to help the client due to our proximity of staff for the current AHU job plus we had resources available up the street at our Temple of Justice project. E&E rallied the troops to help!
Embodying the Power of Teamwork
Outstanding work on this project can be seen in each member on the job and behind the scenes. Shout-outs also go to the crew onsite who have gone above and beyond expectations by completing the AHU shutdown and swap to the array fans that was supposed to take four days, in just a day and a half with limited crew.
Additionally, E&E's superintendent, commented on the entire emergency repair team, the Energy Team from Temple of Justice and L&I, and UMC's Service Department, that brought collaborative efforts that contributed to the emergency repair project's success. The whole team's impressive performance is a testament to the power of teamwork and UMC's commitment to delivering exceptional service to its clients.
—
Check out additional notable and recent projects from our Energy + Environment team by CLICKING HERE
Questions or Comments?
For media inquiries or related questions, please contact info@umci.com