While mandated restrictions are being lifted across the United States, new regulations and expectations for hygiene are taking hold. UMC is continuing to support the nation with innovative solutions for the increased need for functional wash stations. We now offer two new compact portable wash station models that are rugged for outdoor use and designed to better fit with the interior finished spaces.
Single Sink – Warm Water
Required connections: (1) 3/4" cold water (standard garden hose) and (1) dedicated 120V/20A circuit (standard electrical plug)
Optional connection: (1) 3/4" waste
Single Sink – Cold Water
Required connection: (1) 3/4" cold water (standard garden hose)
Optional connection: (1) 3/4" waste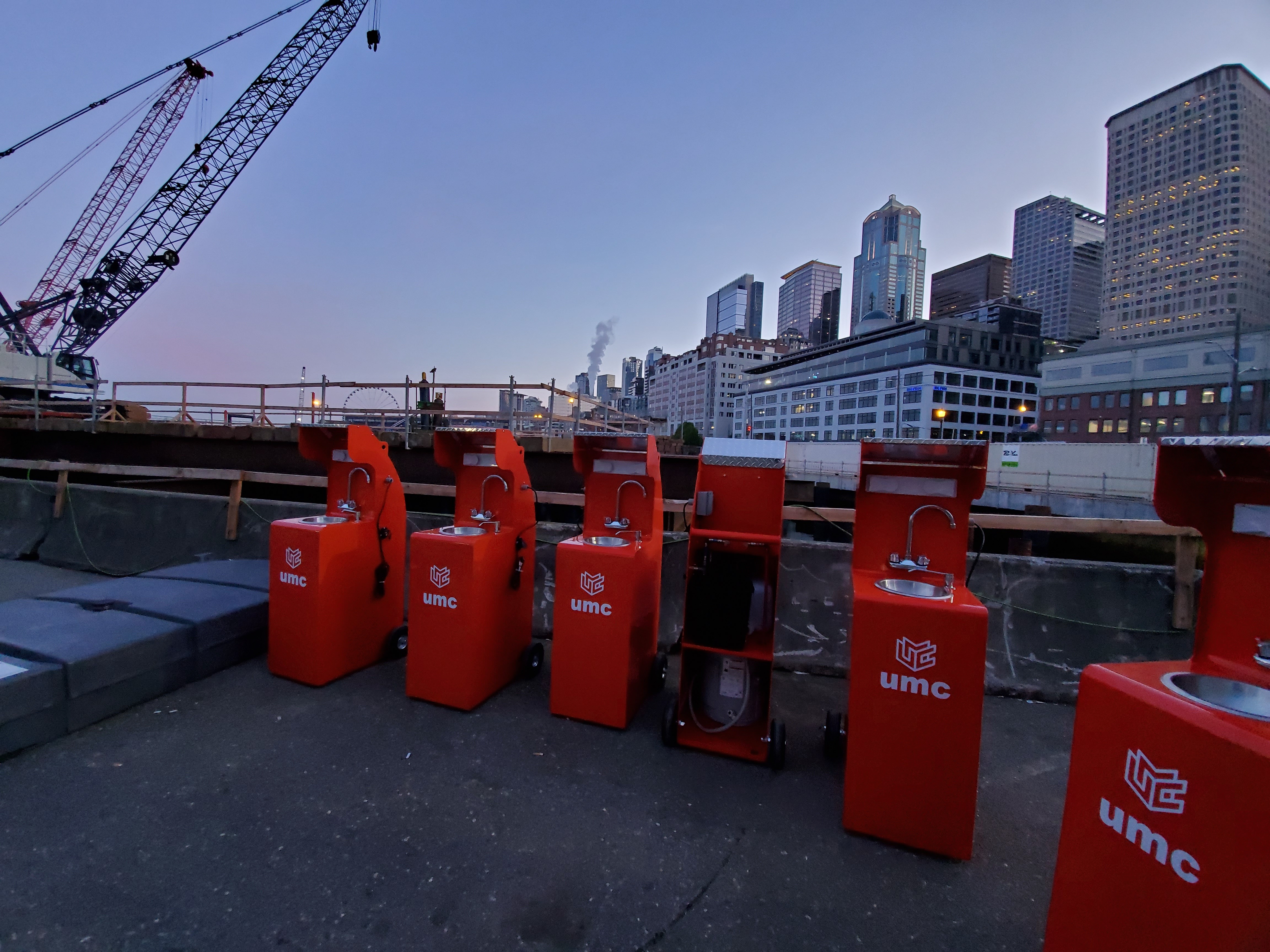 Standard features include:
Touch-free faucet
Simple supply water connection to garden hose
Onboard 5-gallon grey water tank with a port to gravity flow
Refillable soap dispenser and metal paper towel holder
3/16" aluminum plate frame/powder coated finish
Flat proof tires for simple transportation
Built-in handle - transport like a hand truck
Crane lifting eyes
Shipping is available to all 50 states
UMC is here to help
We stand ready to answer your questions on how UMC can assist the needs of your facilities.

Chris Olmsted, Sales Manager
(425) 322-0797 or colmsted@umci.com
Bob Frey, Director of Sales Operations
(206) 423-7507 or bfrey@umci.com
Steve Brooks, Vice President of Business Development
(206) 228-2303 or sbrooks@umci.com
Questions or Comments?
For media inquiries or related questions, please contact info@umci.com