FOR IMMEDIATE RELEASE
UMC's Rebrand Wins National and Local Awards
Expressing thoughtful change in a changing world, UMC's rebrand is recognized by leading marketing organization.
Seattle/Mukilteo, WA (November 5, 2020) - UMC's recent rebrand won the Award of Excellence in the Corporate Identity Rebrand category at the 43rd annual SMPS Marketing Communications Awards (MCA) gala held on October 8th at the SMPS Build Business Pivot & Focus virtual conference. Additionally, UMC's rebrand won two local awards at the SMPS Seattle Reign Awards in June—the Award of Excellence for a corporate rebrand and this year's top Reign Award, Best in Show.
The MCA program is the longest-standing, most prestigious awards program recognizing excellence in marketing communications by professional services firms in the architectural, engineering and construction (AEC) industry. This year's award winners were chosen from a pool of nearly 300 entries and judged by a distinguished panel of more the 140 jurors.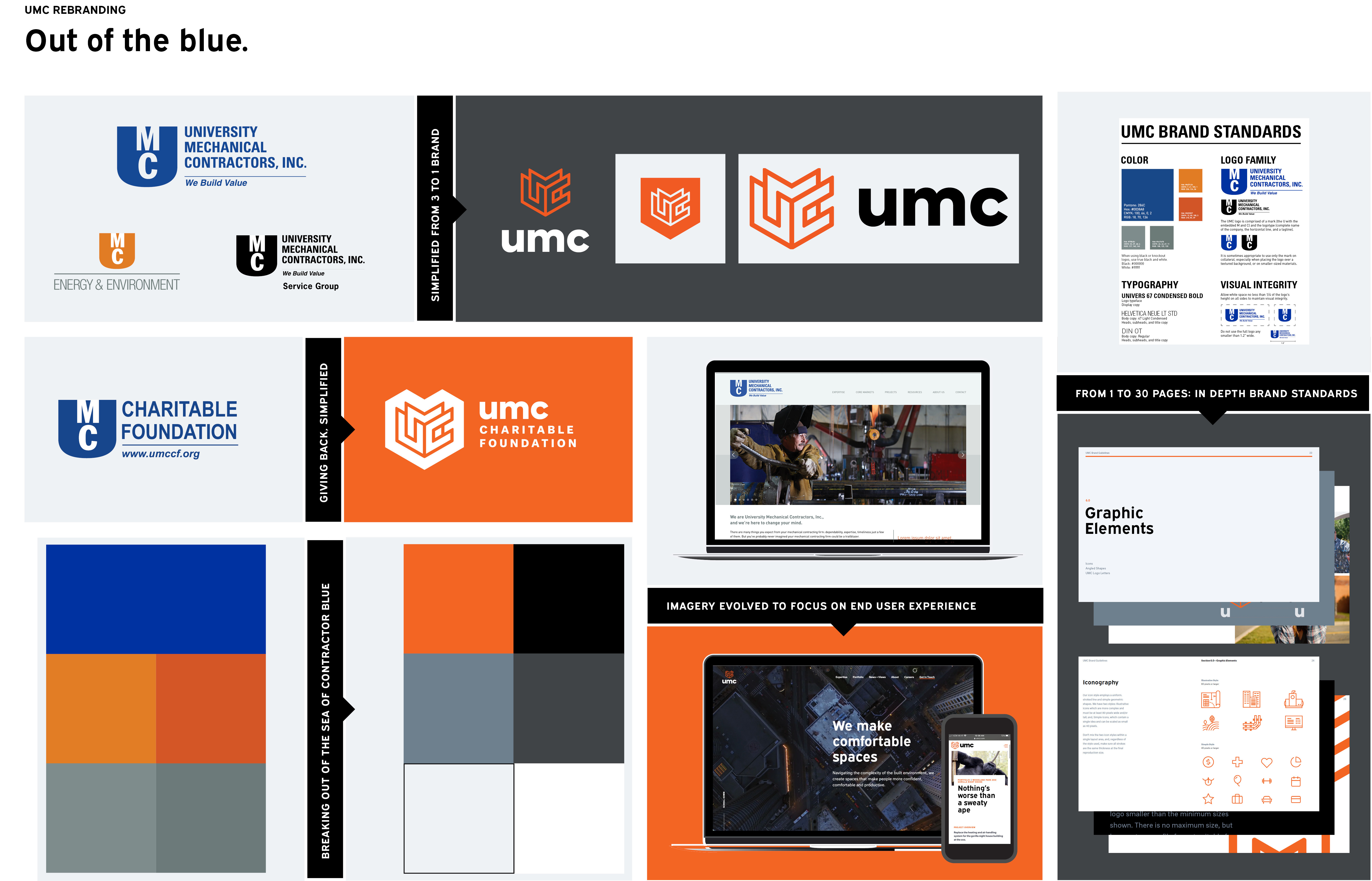 UMC's new brand launched on September 30, 2019. It is a complete reinvention of the logo and visual system designed to embrace UMC's brand promise and convey a bold, yet approachable corporate personality. Its voice is confident, the aesthetic is unique, and the orange signal color is energetic. The new logo mark evokes a feeling of integration and transformation, shielding customers from the inherent complexity of building systems.
"In our 100th year of business, our new brand expresses bold and thoughtful change in a changing world. It is innovative, modern, smart and approachable, reflective of our people and our culture," said Sandy Chapin, Marketing and Communications Manager. "Our new brand is the embodiment of the nature of our relationship to our clients, partners and employees—what we call the 'UMC experience.' We are honored to be recognized by our marketing peers for this effort."

Questions or Comments?
For media inquiries or related questions, please contact info@umci.com