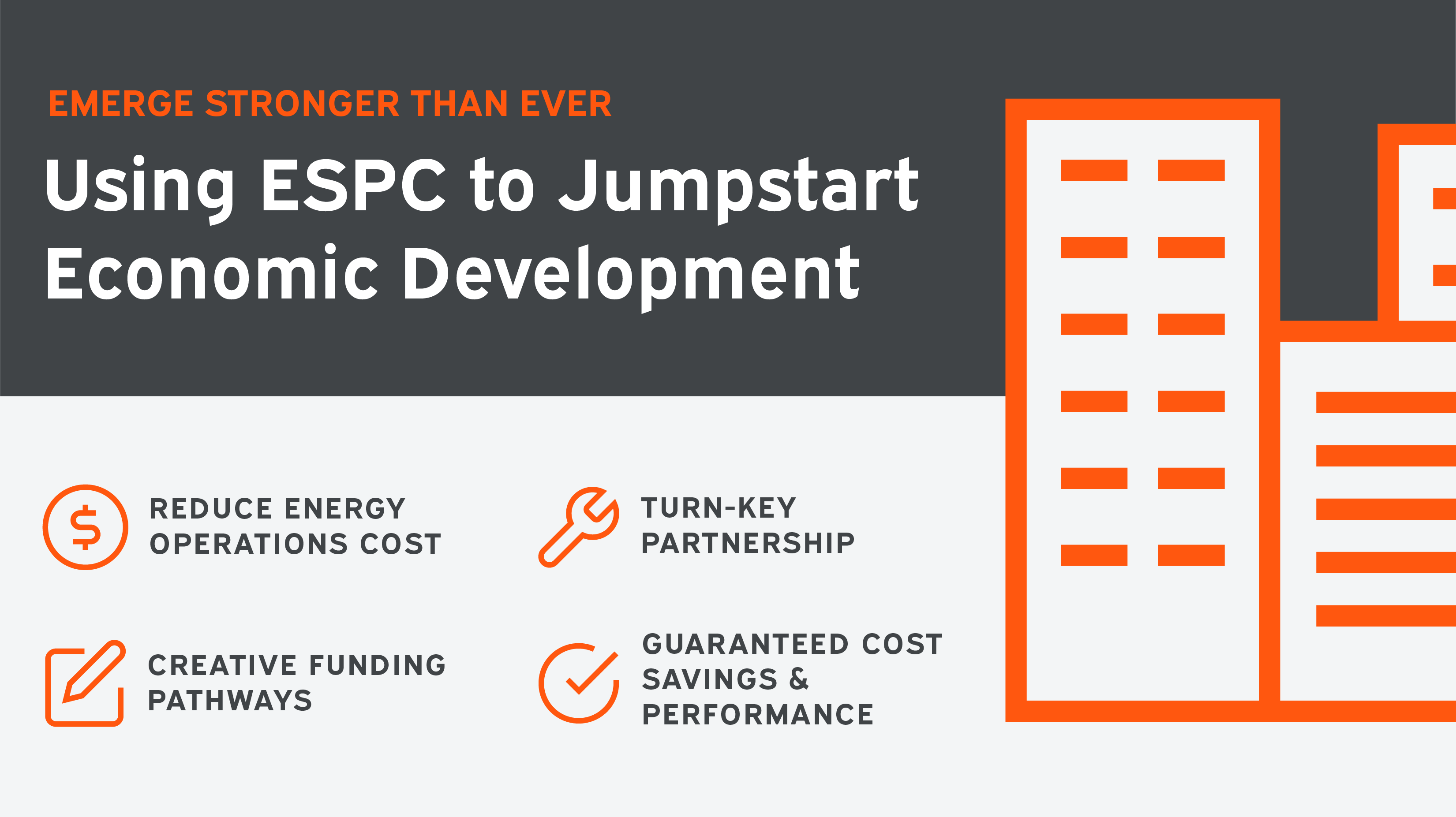 The public sector, businesses, and families have reorganized to respond to the pandemic, and most communities are eager to reopen society. If you are responsible for public facilities, you are laser-focused right now on preparing your building to reopen safely. And rightly so.

But once that plan is ready, what's next? While we all await the green light to reopen to a "new normal," how can we use the time to tackle our ongoing facility challenges and take leadership in clean building obligations and opportunities?
One key for making impactful improvements, and garnering additional funds to do so, lies within the Energy Savings Performance Contracting process.
Recommendation 1. Pandemic-Proof Your Facility.
The first step is obvious: prepare your facility for the time when we can reoccupy our buildings. There have been many robust articles written on this topic over the last six months. And there are a lot of qualified resources in our market who can help you with this step. If you're not yet sure how to tackle ventilation air upgrades, added hand-washing stations, and more, UMC can help.
Recommendation 2. Revisit and Prioritize Your Key Challenges.
You've now "pandemic-proofed" your buildings, ready for the green light to welcome people back inside. While we wait, it's time for facility managers to take stock of their ongoing challenges, which may include:
Aging, inefficient facility infrastructure that needs renewing,
Energy and environmental goals with long-term value but unclear short-term funding,
Spiraling O&M costs driven by failing systems,
New compliance obligations and opportunities under the Clean Buildings Act (HB 1257) – to understand, respond to, and build on.
That's a lot to take on, all with an already-thin budget and an already-lean team now stretched further by the pandemic. How can building managers afford these challenges? And how can you supplement your team with support from industry experts? The ESPC process can help solve both issues.
Recommendation 3. Position for Funding.
Set up your organization for success with outside funding to address your priorities:
Prepare for further COVID stimulus funds. In the months and years to come, there will be grants and loans to revitalize the failing infrastructure. Prepare now by making your energy and infrastructure projects "shovel ready": those that are ready, waiting, and most attractive will earn much of that funding.
Move quickly to meet the requirements of Washington's new Clean Buildings Standard. Its Early Adoption Incentive program will reward those ready to implement energy efficiency upgrades. Those that sit by and wait will be assessed penalties.
Look for incentives from your utility and state energy grant opportunities.
Consider leveraging your energy savings dollars to fund low-interest loans through the state treasury. These 10 to 15-year loans currently see interest rates of less than 2.0%.
Other new opportunities, like the Commercial Property Assessed Clean Energy & Resilience (C-PACER) financing structure, allow long-term investments in your building with Day 1 cash flow. C-PACER can also help you meet the Clean Buildings Act compliance. If you manage privately owned facilities, consider C-PACER.
All these options can greatly expand your limited capital dollars, allowing you to make significant infrastructure upgrades while also meeting your energy goals.

Recommendation 4. Do It All: Turnkey Services From UMC's Energy Savings Performance Contracting Team.
Washington State's Department of Enterprise Services has an excellent Energy Savings Performance Contracting (ESPC) process, well-positioned to support in times like these. It leverages creative funding, including all the opportunities listed in Recommendation 3. The ESPC program helps energy and infrastructure renewal projects pay for themselves, plus helps you meet compliance with the new Clean Buildings Standard. It's structured to support these initiatives while also enhancing the capabilities of your current staff by providing industry experts to analyze, design, and implement the new upgrades. And to put you at ease; the project cost, performance, and energy savings are all guaranteed.
Washington's ESPC program is a national leader with a 35-year history of success, completing over $1.4 billion dollars in performance contracts for over 400 state public facility customers so far. UMC has earned some of Washington's largest and most complex ESPC projects. Let vetted contractors like UMC handle your energy and infrastructure upgrades to save your budget and your O&M staff for other projects.
You can be proud of preparing your public facility to safely reopen in the months to come. With that plan in place, now it's time to position your organization for external funding to meet your long-term energy and infrastructure goals.
UMC is a Northwest design-build mechanical contractor and energy services company with 100 years of experience. It is a top-tier provider of ESPC projects. Contact UMC or the Dept. of Enterprise Services for more information on any step in the process – from pandemic-proofing your facility to taking advantage of turnkey infrastructure and energy services. We're here to make it easy – right here, right now.
Authors
Scott Locke, PE, LEED AP, is an Associate Principal at UMC, managing the direction and services provided by their Energy & Environment Group. Scott has devoted his 30-year career to reducing energy usage in the built environment – driving real, sustainable infrastructure upgrades across the Northwest.
Bonnie Frye Hemphill is Director of Policy & Partnerships at UMC. She brings 15 years of experience in climate and clean-energy policy to drive UMC's engagement and strategic alliances with a broad range of regional leaders in the built environment.
Questions or Comments?
For media inquiries or related questions, please contact info@umci.com