Previous to UMC, Bonnie was opening new markets for solar in the northwest. Now, she is the Director of Policy & Partnerships spending her time supporting deep efficiency goals and strengthening UMC's depth to consult clients on ways to integrate clean technologies into their infrastructure.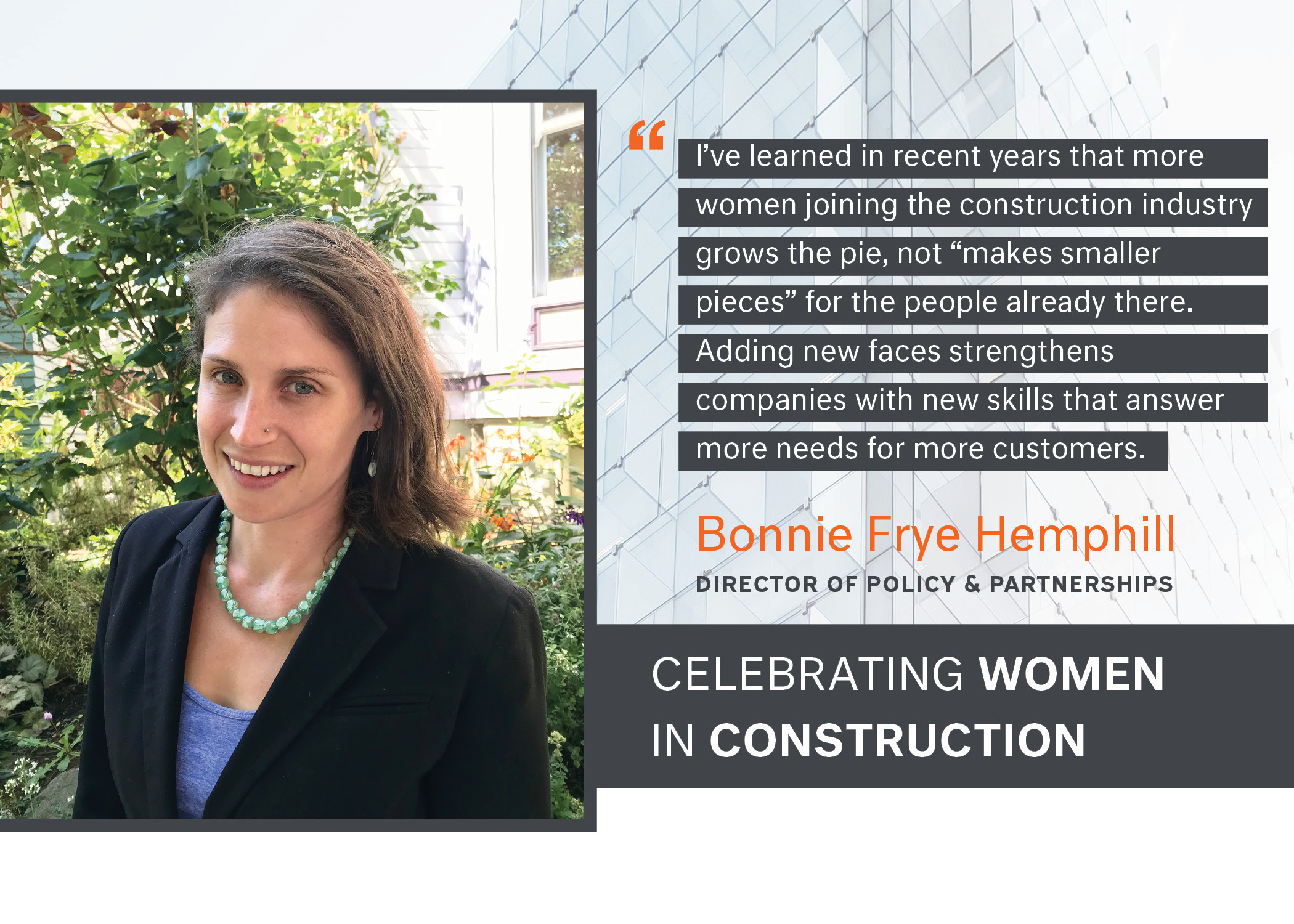 How did you get started in the industry?
Having worked in policy for a long time, I was ready to try out being the boots on the ground – or "boots on the roof" – when I found the construction industry a few years ago via solar. I started in technical residential sales, but within months, the WA solar industry realized that even more, they needed regulatory certainty. So I did both, selling $1M in residential solar in my first year and building a statewide campaign to earn a new WA policy that offered clear, consistent rules for a growing industry. Thousands of solar workers kept their jobs, thousands more joined our ranks, and millions of dollars of private investment accelerated construction in WA's clean economy.
I was glad that that led to more clean kilowatts, more people owning their power, and more construction industry experience for me.
What makes you proud of working in the construction industry?
Solving puzzles is fascinating – both the type about tangible building blocks and the type about navigating puzzling personalities. It turns out that construction needs a lot of types of thinking.
What have you learned from being a woman in the industry?
I've learned in recent years that more women joining the construction industry grows the pie, not "makes smaller pieces" for the people already there. Adding new faces strengthens companies with new skills that answer more needs for more customers. For veteran construction companies and long-serving individuals alike, there's nothing zero-sum about more women joining the ranks. Pieces of the pie aren't getting smaller – the whole pie is getting bigger.
I vote for more pie.
What do you think is the most important change happening in the construction industry?
Construction is so much more than hammers and 2x4s. It's sheet metal and pipes, virtual construction, and manufacturing. It's digital modeling and energy modeling; it's graphic design and interpersonal dynamics; it's thought leadership and business financials.
It's remarkable how broad "roles in construction" has come to mean. There's a niche for everyone.
What advice would you give to women who may be considering coming into the industry?
As a woman, name a time when you weren't baseline badass, excellent at managing logistics big and small, directing traffic among competing personalities, and fixing glitches – all before breakfast? We need people like that – we need you.
March 6 – 12, 2022 is Women in Construction Week. The focus of Women in Construction (WIC) Week is to highlight women as a viable component of the construction industry. WIC Week also provides an occasion for NAWIC's thousands of members across the country to raise awareness of the opportunities available for women in the construction industry and to emphasize the growing role of women in the industry. It is also a time for local chapters to give back to their communities.
Questions or Comments?
For media inquiries or related questions, please contact info@umci.com