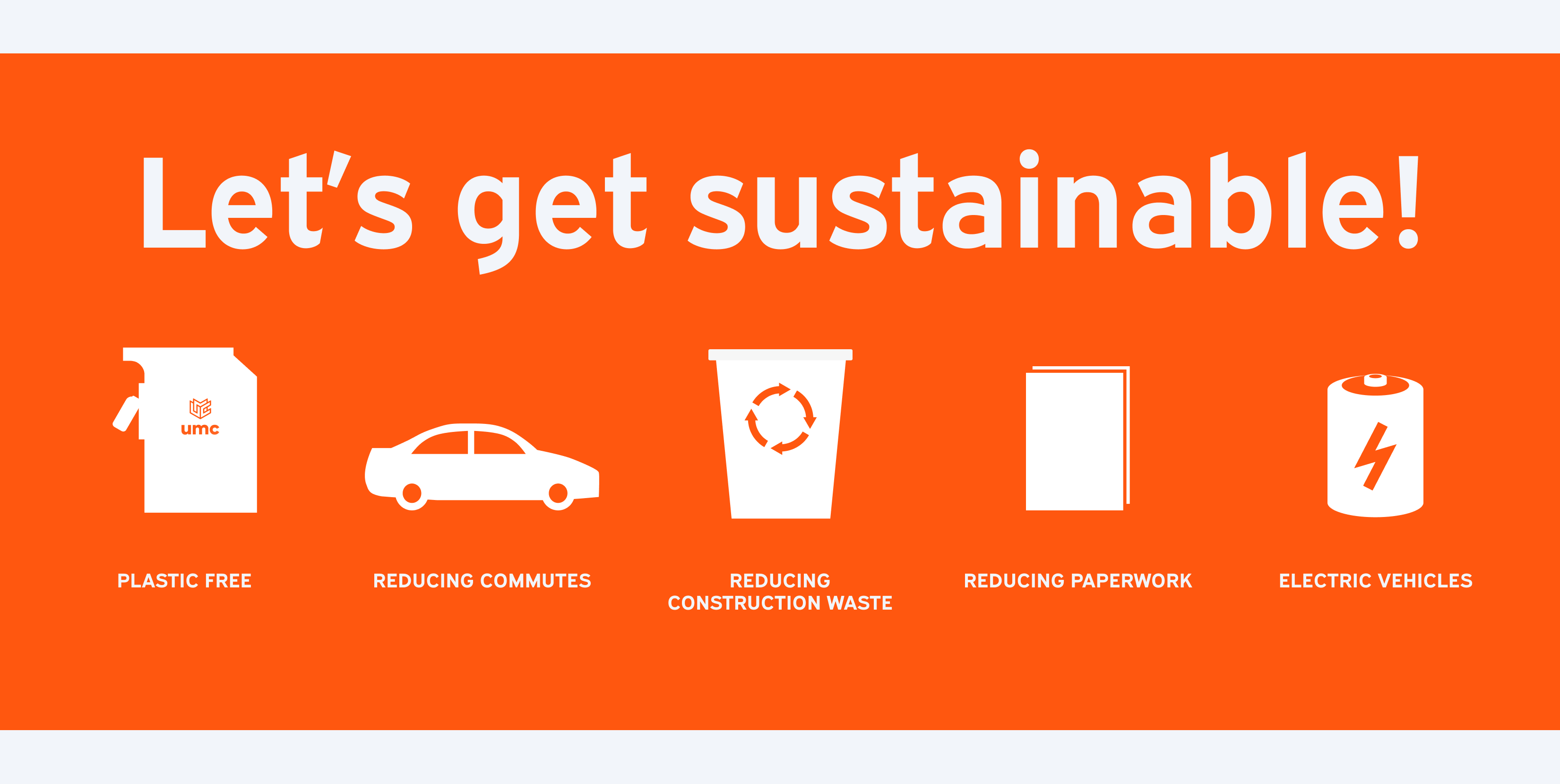 If the past year and a half has taught us anything, it's the importance of taking action. At UMC, we vow to be bold in our decisions and increase value for our employees, trusted customers, and growing communities. There's no denying it that the building industry is known to produce significant waste. We asked ourselves a simple question: what can we do now to better the health of our planet and prioritize the future?
In simplest terms, our philosophy promotes the health and safety of the communities around us. Teams across UMC have gone above and beyond to prove the intersection of authenticity and innovation spurs well-being. We all make choices day-in and day-out that affect one another and the planet, so we went around the company to check in on what we're doing around UMC and for our clients to inspire and encourage change for the future.
Plastic bottle free by '23
Every second, roughly 1,000 people open a plastic bottle of water in the United States. And 80% of all plastic water bottles end up in landfills leaking harmful chemicals into our environment along the way as they decompose. Our field operations and warehouse teams have committed to reducing the use of plastic bottles across UMC: on jobsites and in the office by offering reusable bottles.
Within the past year, we have implemented reusable bottles in our warehouse, fabrication shops, and select jobsites. Our goal? To reduce disposable water bottle deliveries to all UMC jobsites by at least 50% in 2021, 75% by the end of 2022, and 100% by 2023.
A cool way to save $$
A disposable water bottle generally only costs between one and three dollars totally around $15 a week, when you purchase a new bottle daily. Having access to a filtered and chilled drinking fountain or refill station lets you keep that money in your pocket by allowing you to purchase a one-off reusable bottle, mug, or glass you can refill multiple times. Imagine not having to go search for a disposable water bottle and having access to ice-cold fresh and filtered water when you turn the corner. At UMC, we have saved over 250,000 plastic bottles by installing bottle filler stations throughout the UMC campus.
As innovators and advocates for our clients and communities, our team has developed a 100% portable and touch-free bottle refill station that provides continuous filtered cold water. These refill stations will be popping up around the city on jobsites. If you want to explore how these refill stations can benefit your jobsite or facility, contact Kevin Parker at kparker@umci.com.
Manufacturing to reduce environmental impact
A much quieter part of our sustainability practice is the evolution of our manufacturing mindset. Our manufacturing team has been focused on developing techniques and processes that reduce waste, energy and other inefficiencies in our shop and on the jobsites. Construction waste is often a mix of materials that is difficult to separate for use in other projects. As a result, a significant volume of materials ends up in landfills instead on repurposed for other buildings. And that's where manufacturing and prefabrication comes in to play.
At UMC, the manufacturing team has been focused on implementing tools like Tigerstop to reduce waste from the pipe we buy. For example, materials that come in predetermined shapes and/or sizes need to be cut before it lands on a jobsite for installation, and those leftover pieces are often wasted. With Tigerstop, we have the ability to customize to reduce the waste by cutting repeatable sizes from the raw materials and utilizing what would have been wasted for the next project.
Racking up carbon savings
It is well-known that carbon emissions are detrimental to our climate and negatively impact our environment. Continuous emissions lead to unsustainable and unpredictable conditions. There are a few things that we do at UMC to rack up our carbon savings. Imagine how much Co2 was saved by reducing total commuting over the past year and a half while during the stay-at-home orders. As we transition back into our physical offices, teams across UMC will be providing flexible work options to in turn reduce commutes and lower our collective impact on the climate. If we reduce 30% of our commuting miles as a company, we could probably make it to the moon and back! You can calculate your own carbon footprint by clicking HERE.
The production and use of paper has a fair impact on carbon emissions. Our contracts team has created a standard to use Docusign to reduce the need for printed contracts by providing a digital solution for traditionally print-heavy needs. Even this simple switch to digital alternatives counts towards our overall carbon savings!
We're not stopping there! We are continuing to work to join early adopter fleet opportunities to bring electric vans and trucks to our growing fleet of vehicles in the future to seamlessly increase our carbon savings in new and innovative ways.
Connected opportunities
This is just the start of a defining and decisive decade for many. The COVID-19 pandemic may have dramatically impacted our families, customers, and employees but it also brought an opportunity to reconsider the resiliency of both our planet and our communities. By keeping this past year's learning in mind, we have the ability to connect on how we can avoid the worst impacts of climate change and come together to support our collective efforts. How are you changing for the future?
Questions or Comments?
For media inquiries or related questions, please contact info@umci.com