Look at the car you drive, the phone you use, how you get your groceries—these industries have used innovative ideas to evolve and transform over time to make better products and provide better modes of delivery to consumers at lower price points. Innovation has penetrated every single marketplace. However, even with all the new technology, fancy tools and materials that have evolved, the way a building goes together in the construction industry hasn't changed that much. The fact is, how buildings are assembled, along with advanced material science will be what revolutionizes our industry. And given the COVID-19 era limitations on personal proximity and disinfection measures, traditional construction will be further slowed. It's time to shake up the industry!!!
Enter manufactured systems in construction
Manufacturing for the construction of buildings is accomplished by pre-building repeatable systems in well-organized manufacturing facilities to be shipped and assembled on the construction site. This is termed non-volumetric manufacturing. The key advantages of constructing with manufactured components are:
Faster delivery of buildings
Higher cost certainty
Higher product reliability
Higher quality
Less materials, less waste
Better energy efficiency
Safer construction sites
Faster startup and commissioning
Constructing with manufactured, or prefabricated systems, is gaining in popularity around the world in the quest to build better buildings faster and at less cost. Forward-thinking, multifamily, affordable housing developers, among others, have adopted this technique in the effort to curb the housing crisis in cities across the nation. In many cases, the building time and speed to market can be reduced by 50%. Manufactured components for buildings also have much less material waste and often less material, period. Less material equals less embodied carbon and environmental impact. Energy efficiency is a priority in our builds and can be accomplished much more economically through the manufacturing approach. Ultimately, these structures are more energy-efficient, ultra-durable, and higher quality buildings that provide quality living for less money.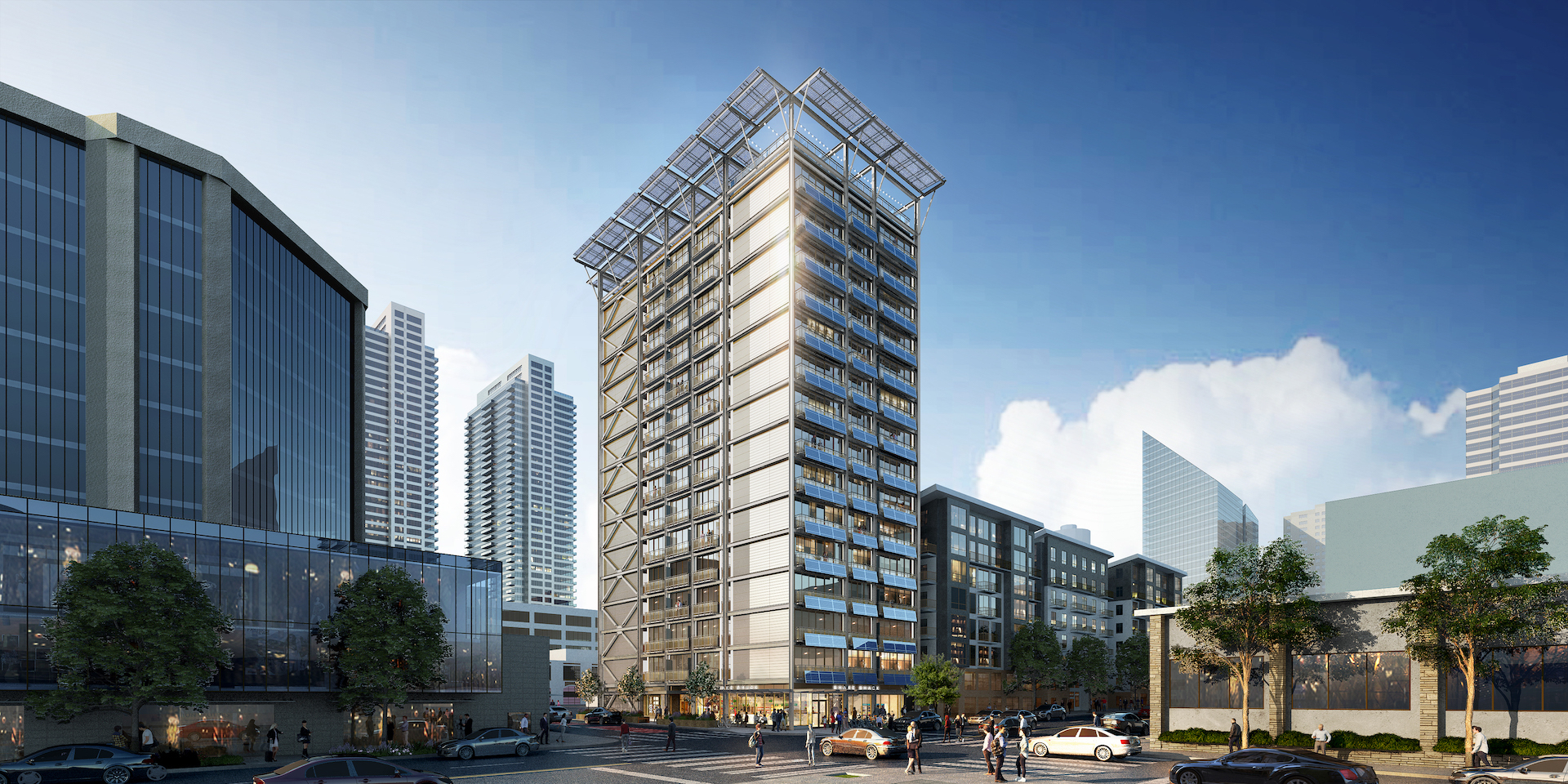 UMC is providing design and manufacturing for Sustainable Living Innovations' 303 Battery project, a 15-story, 112-unit, Zero Net Energy apartment project with 27 affordable units in the Belltown neighborhood of Seattle. (Image courtesy of Sustainable Living Innovations)
Ahead of the game
Here at UMC, we have been manufacturing products to support construction for decades. However, today our manufacturing division is separate from construction. Why? The mindsets for manufacturing and traditional construction are inherently different. Through our separate line of business, we craft the delivery of products around the manufacturing mindset. This consists of a system of standardized, streamlined processes that eliminate waste, improve productivity, increase efficiency, and ensure quality and safety. Through early and ongoing communication, every stakeholder stays on the same page as we continuously measure and track our performance for constant improvements. Utilizing cutting-edge technology in the process, we are building for the marketplace of the future.
As we have developed our manufacturing division, we've shifted to look at our own construction projects as clients for that business line. We can drive efficiencies and concepts that were previously foreign to the traditional construction delivery process. This provides value to our clients and a product line that has a market beyond our own construction projects.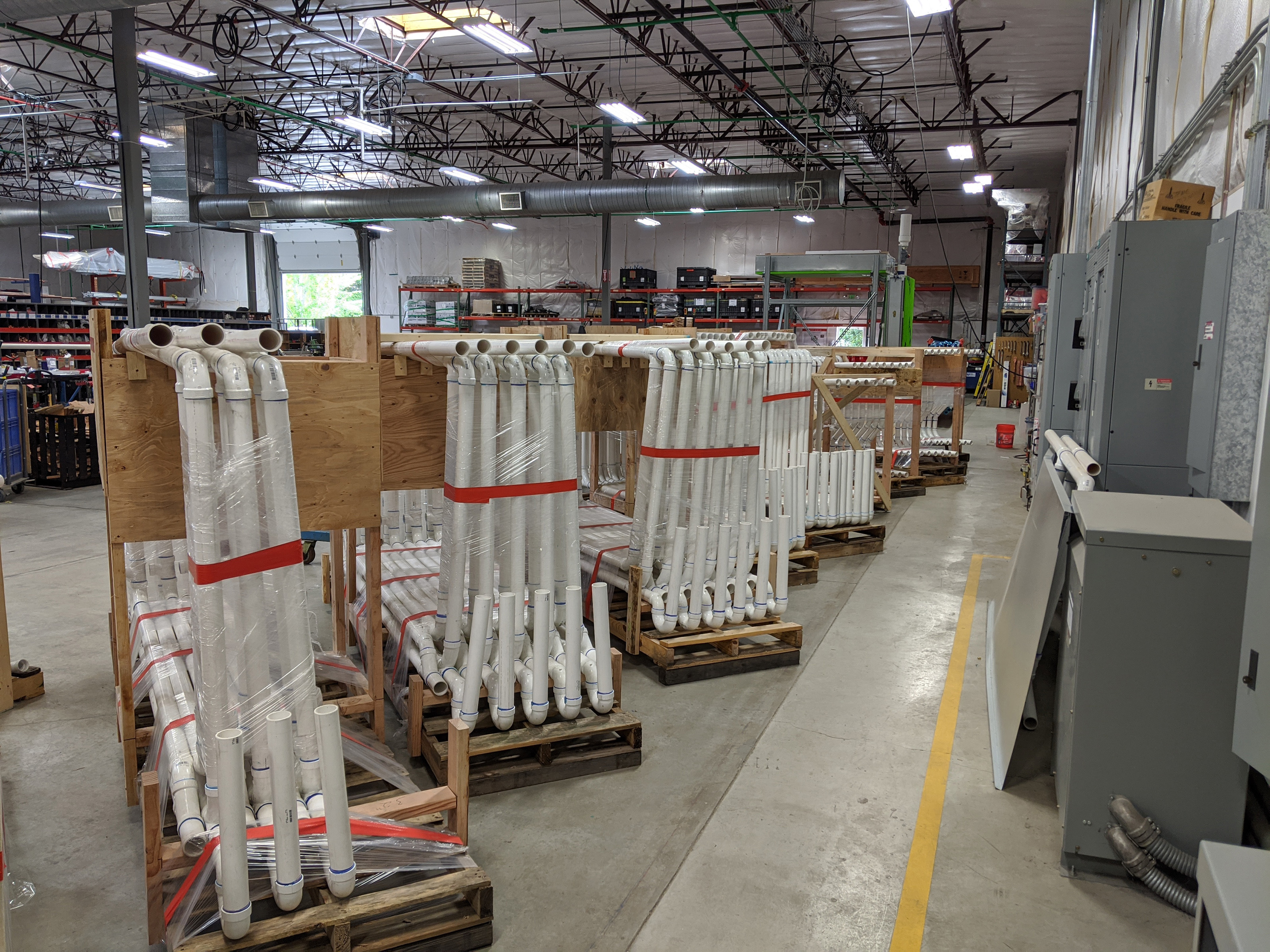 High volume output of repeatable assemblies in a controlled environment allows efficient movement of material between assembly stations.

Bonus points
Our manufacturing arm has also provided UMC, a 100-year-old construction company, resiliency in the COVID environment. When construction was halted, we were able to pivot to manufacture a creative and needed mobile sink line born from a scratch paper idea. We had the internal vehicle with supply chain management and product distribution, not typical of a construction company, which allowed us to get our products to market faster than ever before.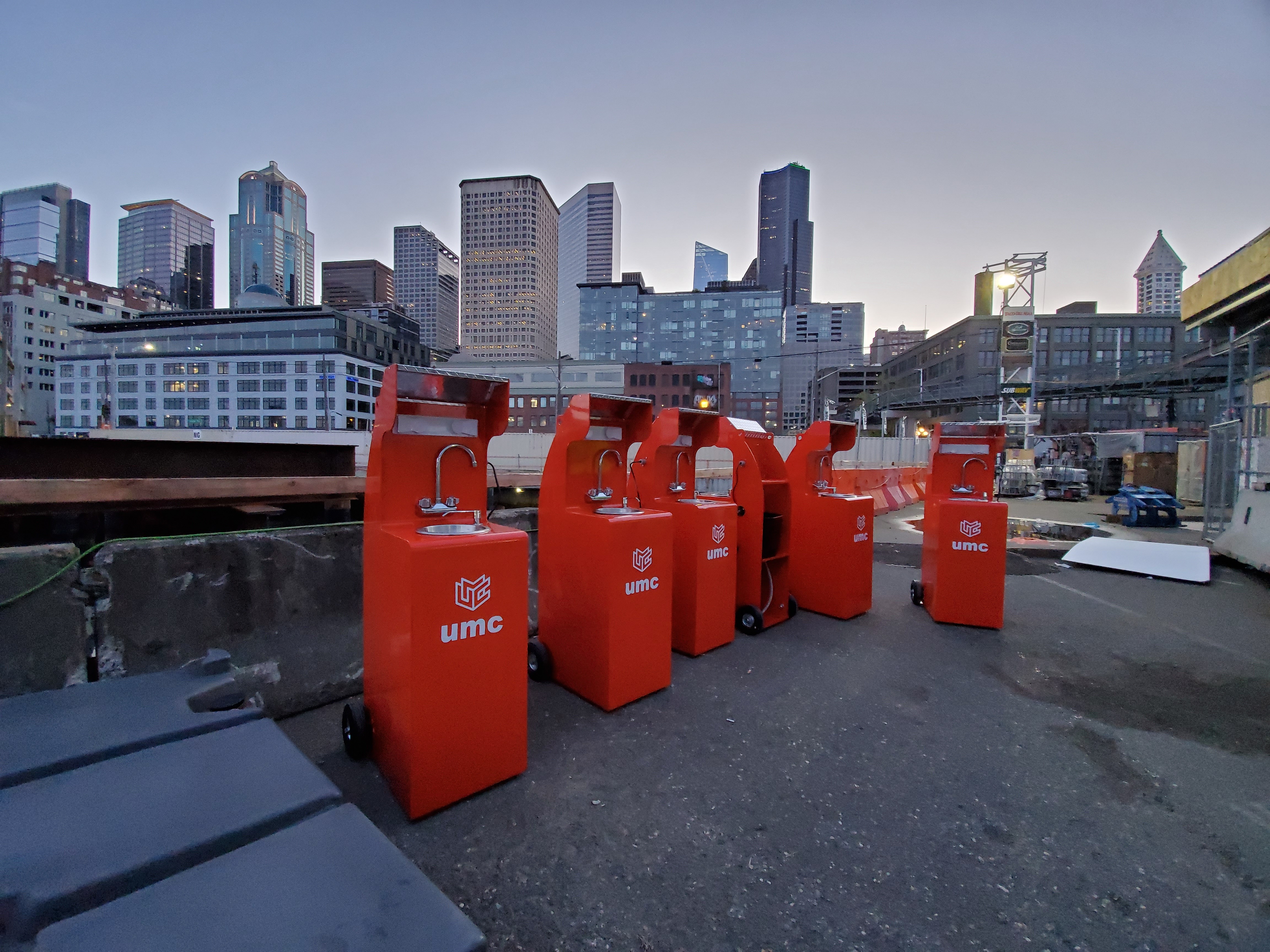 UMC's single-sink portable hand washing stations at Coleman Dock in Seattle are ready for delivery to construction client. (For more sink information see products page.)

The name of the game
Construction is ripe for innovation and disruption. The housing and homeless crisis can be a direct beneficiary of a more economical delivery of quality housing. Cost is a big hurdle to cross and manufacturing for buildings keeps quality high and costs low. Manufacturing is also a game-changer for the delivery of unique office buildings that will allow a more architecturally expressive landscape and minimize boxy towers with little character or human interest.
Like many disruptions in the marketplace, there will be a division of those that adopt the technology and those that do not. In the long run, I believe this is our game-changer. Manufacturing is the future and companies that don't find a way to participate will struggle to be relevant.
The fact of the matter is that construction with manufactured systems is at a tipping point. Several innovations have matured to the point where the industry can deliver on a scale and at a price point that will shift the investment toward bringing it mainstream and commonplace in the market. At UMC, we're on board to shake it up and be a part of designing and building the future. Will you join us?
Questions or Comments?
For media inquiries or related questions, please contact info@umci.com