UMC offers almost limitless ways to establish a network, move up, branch out, and build a meaningful career. Below, we offer a glimpse into the developing careers of three UMC Project Managers and advice they have for others coming into the construction industry.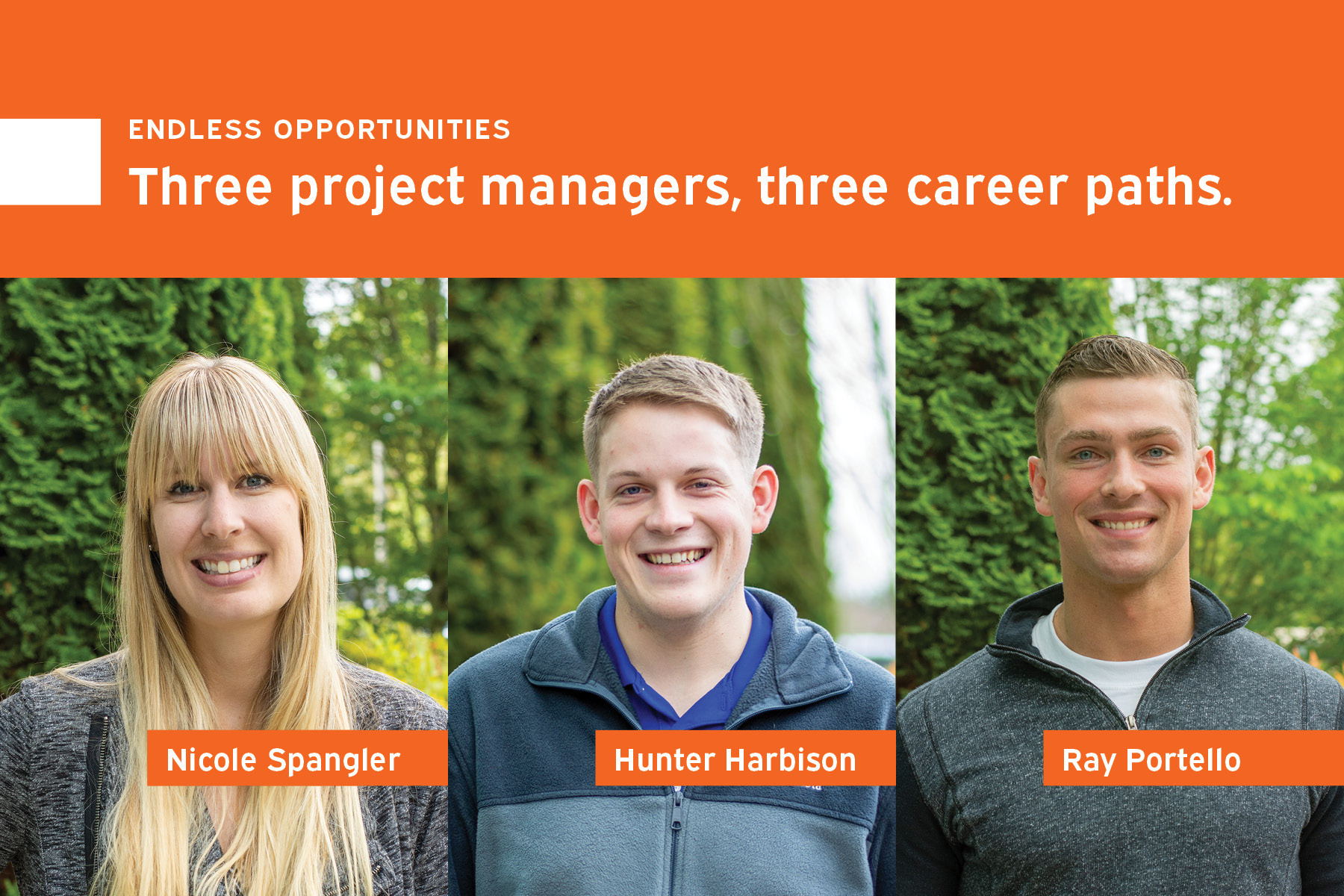 Nicole Spangler is a Project Manager with our Major Projects group focusing on high-tech clients and complex builds.
Hunter Harbison is a Project Manager with our Industrial group and is known for his tenacity and willingness to step into any situation.
Ray Portello is a Project Manager with our Special Projects group who started at UMC fresh out of college and in two years has worked his way from Project Engineer to Project Manager and has his eyes set on an ambitious career path.
Where did you go to school?
Nicole: I was a student athlete at the University of California San Diego – part of the Woman's softball team, 2011 National Championship! I majored in Management Science – a quantitative major in applied economics with a management focus, minoring in accounting.
Hunter: I graduated from Eastern Washington University with a degree in Mechanical Engineering. I did not study construction management, but throughout my high school and college career, I worked on a handful of construction and excavation projects, so I knew that I was interested in the process and at least had some hands-on experience to familiarize myself with the industry
Ray: I went to school at Eastern Washington University and majored in mechanical engineering. UMC was my first opportunity in construction, and I came across that opportunity at the career fair held at Eastern. A friend of mine who worked for UMC at the time, introduced Dave Babington, UMC's HR Manager, and we set up a phone interview. The rest is history.
Since graduation, what has your career path been?
Nicole: When I started in the construction industry, I did not know how rewarding it would turn out to be. After graduation, I returned to the mechanical company I interned with prior to my senior year. Starting as a Project Coordinator, I enjoyed working with our different trade foremen. Since then, I've worked on a diverse portfolio of projects and quickly worked my way to Project Manager at UMC.
Hunter: My first job after graduating was with UMC starting as a Project Engineer in the Industrial group. After working as a Project Engineer for a little over two years, I was promoted to Project Manager earlier this year and haven't looked back since.
Ray: I started at UMC in January 2019 as a Project Engineer. After working predominantly on the Seattle Cancer Care Alliance (SCCA) and Fred Hutch accounts, I worked my way up to becoming a Project Manager just two and a half years later. Now I am essentially running the SCCA and Fred Hutch accounts as a PM.
What drew you to work in construction?
Nicole: I sort of fell into the industry and never left.
Hunter: I was always intrigued by the construction process and the amount of gratification it can leave you with after a project is complete and you are able to see your hard work on display.
Ray: I was drawn to work in construction by the vast diversity of it and the opportunity to not always have to be behind a desk and on a computer. There are many opportunities to meet lots of interesting people and see various venues during my work which keeps things exciting.
What is a piece (or two) of advice you would offer others coming into construction?
Nicole: Caring and investing in others will always be worth the extra time and effort. This is a relationship industry after all.
Hunter: Say yes to any experience that comes your way (or at least most of them). There is always something to learn with every experience or task when you are starting out. It also helps you understand what drives you every day and what kind of work you look forward to.
Ray: Learn as much of the building codes as you can. If you can recite them front and back, you can use them to your advantage when building a work plan and avoid many critical errors.
What are you looking forward to as your career progresses?
Nicole: I enjoy working with a team of many individuals, with different diverse skill sets, coming together to provide solutions, being innovative, and creating progress. I find it very rewarding to watch our teams' efforts come together in a collaborative approach with systems and buildings being built. I look forward to building teams and building projects.
Hunter: I am looking forward to gaining more experience as a Project Manager and the different experiences that we are exposed to in the construction industry.
Ray: I am looking forward to growing as a Project Manager and then transitioning into more of a Project Executive, improving my selling skills, and networking with lots of GC's [general contractors] and building owners.
Join the team.
We are always seeking folks who are as bold with their ideas as they are exceptional in their craft. Check out our openings on the careers page!
Questions or Comments?
For media inquiries or related questions, please contact info@umci.com