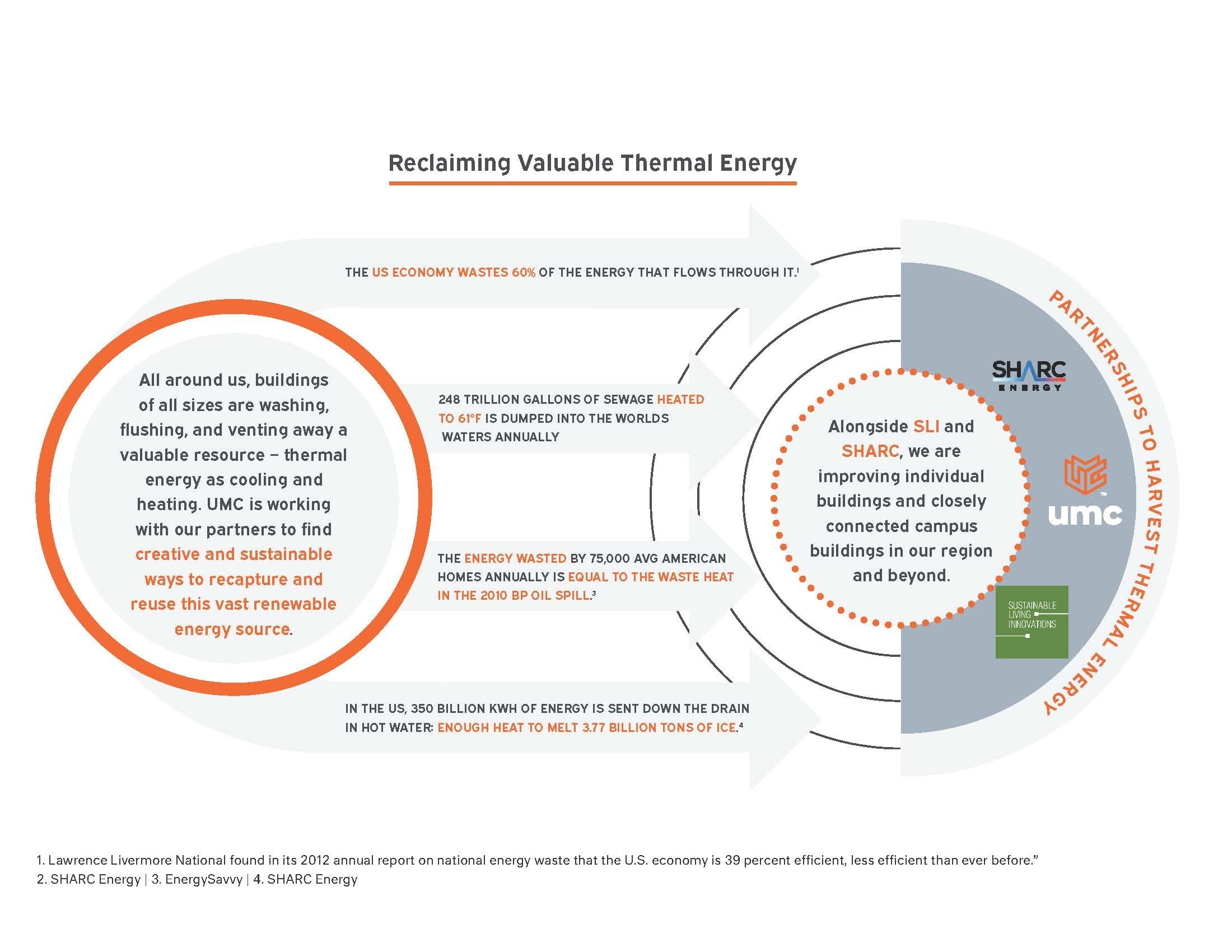 All around us, buildings of all sizes are washing, flushing, and venting away a valuable resource – cooling and heating. If you're a nerd like me, maybe you heard a recent 3-minute piece on NPR's Morning Edition, "How Your Hot Showers And Toilet Flushes Can Help the Climate."
Why is that cool? Because UMC is already building numerous partnerships to help our customers harvest cooling and heat before it escapes the building. Together, we're offering thermal energy recovery as a major energy efficiency measure and climate solution for individual buildings, campuses, and neighborhoods. It's good to be doing good business 'in good company.'
Sustainable Living Innovations (SLI) offers high-performance panelized buildings complete with all mechanical, electrical, plumbing and data infrastructure pre-installed. UMC is an essential partner, offering systems manufactured at our Mukilteo home base to be integrated into SLI buildings at their production facility in Tacoma. UMC is also the brains behind the design of SLI buildings' internal thermal recovery systems, graywater recycling, and controls systems that can optimize operations and building performance.
"UMC has been a valued and trusted partner for SLI as we have worked to scale our technology," offers Adam Rohde, SLI's Chief Construction Officer. "Working in roles spanning project design, pre-fabrication of factory installed sub-assemblies, and field installation, UMC has been instrumental in helping SLI achieve the most efficient plumbing and mechanical systems possible for our product."
SHARC Energy technology extracts and transfers thermal energy from a building's waste graywater to preheat a holding tank for the building's next needs for hot water. Only heat from sink and shower drains transfers in this closed-loop system – not poop! – wastewater, gray water, and fresh water never mix. And since it's a heat pump at its core, the SHARC system can also work in reverse, cooling a building by moving its heat into the wastewater system. UMC is proud to serve as SHARC's contract manufacturer. They design the system, we optimize it, and then perform scaled manufacturing and assembly.
In fact, SLI is currently using systems from SHARC in their buildings to reclaim the thermal energy instead of washing it away. Even more, the Denver project highlighted in the NPR piece at the top will utilize SHARC systems with components built by the UMC manufacturing team! It all comes together.
As Scott Locke, UMC's Manager for Energy Services, sums it, "UMC is teaming with SLI and SHARC on creative ways to re-capture and reuse the vast renewable energy source of reclaimed thermal energy." So far, these partnerships are improving individual buildings and closely connected campus buildings. Down the road, UMC's district thermal team – connecting buildings plus our growing work for wastewater treatment infrastructure – hopes to offer more and more opportunities in connected thermal energy districts across our region.
With these smart partnerships and more to come, UMC is doing good business, 'in good company,' and helping cool the climate whose stability we all depend on. We're proving that heat is cool.
Questions or Comments?
For media inquiries or related questions, please contact info@umci.com