We recently had the pleasure of welcoming three summer interns across our organization. Rather than sticking our interns in a corner cubicle and ask them to fetch coffee, we integrate them into the business. Part of that includes getting to know more about them, including their goals, and passions.
In any case, without further ado, let's meet UMC's summer interns!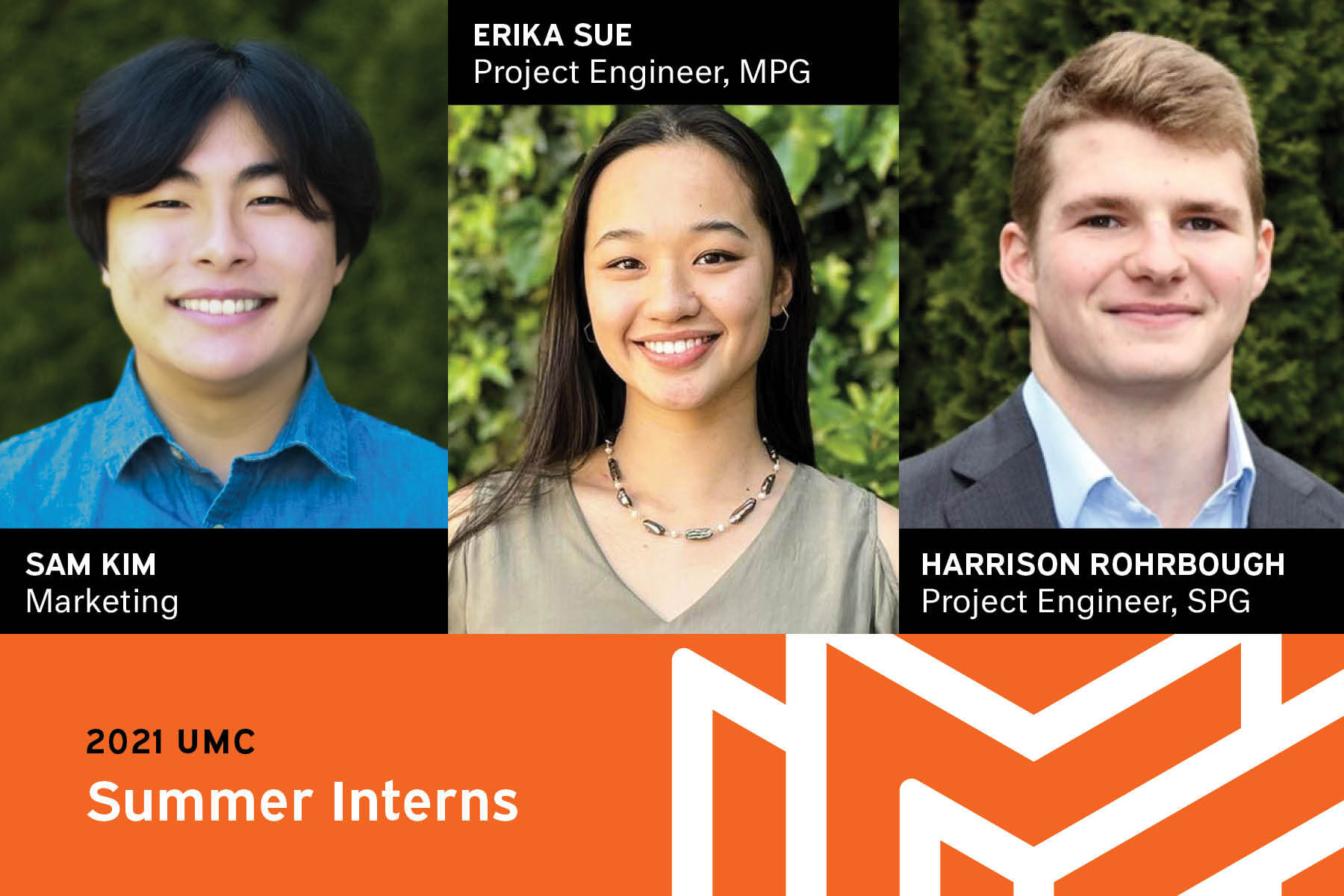 Sam Kim is UMC's first-ever Marketing Intern. He is an incoming senior at UW-Bothell graduating in December with a major in business administration. An entrepreneur at heart, he has started a photography club and is excited to learn about business and tackle projects with real stakes. When he's not surfing the net developing the next best marketing campaign, he's griding on the tennis court or daydreaming about where he's going to travel next.
Harrison Rohrbough is joining our special projects group as a Project Engineer Intern. Currently, a sophomore mechanical engineering student at Cal Poly expected to graduate in June 2023, he wanted to explore all the PNW has to offer for the summer. When he's not on-site, you can find him running circles around the city or hiking the highest mountain tops.
Erika Sue just finished her 3rd year as a mechanical engineering student at Seattle University and will be joining our major projects group as a Project Engineer Intern. When she's not hitting the books, you can find her splashing around the SU recreational facility as an Aquatic Manager or crunching numbers as a math tutor with SU's Learning Assistance Programs. When she's not on campus, she's probably off getting lost finding the next best place to grab a bite to eat with friends.
1. Why did you apply to intern at UMC?
Sam: I chose to apply to UMC because I wanted to challenge myself to quickly adapt to an unfamiliar industry and learn how marketing plays a role within it. I also wanted to receive a greater perspective and widen my marketing scope as relationship marketing was not a priority within my academics.
Harrison: I have always been interested in the construction side of engineering, so UMC seemed like the perfect fit. I thought this was a place where I could gain a lot of valuable experience and learn about how business is done beyond the classroom.
Erika: I chose UMC because I really admired their commitment and work towards the community. I want to be part of the culture and help bring communities together.
2. What project(s) will you be working on this summer?
Sam: As the marketing intern, I will be working on various projects, but mainly assisting with new proposals, website content, and company events.
Harrison: I will be helping the special projects group at a jobsite in Seattle. Other than that, I am hoping to get some experience working on as many jobs as possible.
Erika: This summer, I will be working on confidential projects in Bellevue and Kirkland as a Project Engineering Intern.
3. What is one thing or skill you're hoping to learn at UMC this summer?
Sam: I hope to learn how to become a better marketer through this internship. Because of my lack of field experience, I simply want to obtain knowledge that cannot be taught during a lecture.
Harrison: I am just trying to learn as much as I possibly can this summer about this company. There is so much going on and I am just going to do my best to absorb as much of it as I can.
Erika: I am hoping to learn more about the construction industry and really get a hang of the role mechanical contracting has in it. It has been great to see all the teamwork and different groups coming together to make something amazing.
4. If you had one extra hour in your day, what would you do with that time?
Sam: If perfect outdoor conditions permitted, I would take an extra hour to play tennis outside and play more sets than usual. If not, probably take the time to take a short mid-day nap.
Harrison: I'd like to say I would begin reviewing material for some of my more difficult classes next fall, but in reality, I would probably just spend it with my friends.
Erika: I would take the extra time to explore a new neighborhood, hang with friends, workout or do nothing. Sometimes it's nice to just have the option to be responsibility-free and choose what to do.
5. What is something big or small you're really good or bad at?
Sam: I'm good at navigating my way around with my great sense of direction. I could navigate somewhere using my phone once, and that route would be automatically added to a mental map of all the roads I've driven on.
Harrison: I am terrible at golf. Half the time I can't even hit the ball because my swinging form is so bad. I have become very good at throwing my clubs farther than I hit the ball though.
Erika: I am not too good at baking, but I enjoy it. Even when I follow the recipe, something is always a bit off from my expectations. However, I am pretty good at cooking! It makes me happy to see how food can bring people together.
6. If you could snap your fingers and become an expert in something, what would it be?
Sam: I think I would want to be an expert in either Spanish or Mandarin! As an avid traveler, I believe being able to communicate with natives changes the way you experience travel. Spain and China are two countries on my bucket list, so I decided on those languages.
Harrison: I would probably want to be an expert on the stock market. Day trading and actually having an idea of what was going on would be very interesting.
Erika: I would love to be fluent in Mandarin and Cantonese! I can speak enough, but I would like to be a lot more proficient to communicate better with my extended family and continue this skill through my own family.
7. When you were younger… What did you want to be when you grew up?
Sam: At an early age, I thought brain functions were fascinating, so I wanted to become a psychiatrist. To this day, I'm still interested in the topic and even though I didn't end up going down that route, I'm somewhat continuing to learn about how our minds work with consumer psychology.
Harrison: When I was younger, I wanted to go into construction because that's what my dad did. After taking a few physics classes in high school, however, I quickly realized that I wanted to eventually go into the STEM field if possible.
Erika: When I was younger, I wanted to be an entomologist; that's a bug scientist! I also considered being an artist and a doctor. Now, I have found that I can put my creativity and love for helping people into my work as a mechanical engineer. I still find insects very interesting and love it when I spot an interesting one.
8. What are your goals after graduation?

Sam: My top priority for post-grad is to do something I truly want to do. It's a scary thought to leave behind years of school and finally begin your career, however, I want to make the most out of this new stage in my life and my 20's.
Harrison: My goal when I graduate is to start working right away. I am very excited to learn about how engineering is done in the real world, instead of reading about it in a textbook.
Erika: After my undergrad, my goal is to get my master's in mechanical engineering and then experience the world and learning from people coming from all walks of life.
Questions or Comments?
For media inquiries or related questions, please contact info@umci.com