When the first cases of coronavirus started showing up in Snohomish and King Counties, it threw all of us into a tailspin, not the least of which were our construction crews. As General Superintendent here at UMC, protecting construction crews from infection across the city weighed heavy on my mind. It's no secret that construction is a dirty job.
As things started getting real, I was impressed by how our superintendents on-site were responding. They took it upon themselves to build wash stations for their workers out of plywood and utility sinks, and it inspired me. The sinks worked for the moment and were an improvement from what was available for hand cleaning, but as COVID-19 began to spread throughout the area and CDC guidelines became loud and clear—soap and water is the only way to keep workers safe—many of us knew this temporary solution was not going to be sustainable for the long haul.
It was clear, the entire construction industry quickly needed wash stations that were portable and easy to transport, could be picked with a forklift or a tower crane to the highest floors of a building project and would follow all the social distancing and hand washing requirements. In mid-March, with the "pandemic" spreading and government mandates looming over all of us, I sat down and sketched up an idea for a portable sink.
Turning an idea into reality
Here at UMC, I'm lucky. I have the best and brightest people around me that love to bring ideas to life. Working with our Field Superintendents, Virtual Construction and Manufacturing teams, the idea's design took shape:
To make complying with handwashing guidelines easier to follow, we wanted to take the wash station to the people, not make the people waste time walking to the wash station. With the pump on the bottom, we can drag a hose to the sink for the water and pump the waste to the nearest connection.
Thinking that hot water is more effective for hand washing than cold, we designed the sinks with a hot water tank. But after talking to one of our owners, he educated me on the fact that the World Health Organization (WHO) doesn't require hot water for hand washing, so we made the tank an alternate to cut down on the standard sink's cost. (WHO Guidelines on Hand Hygiene in Health Care, Pg 29.)
To meet CDC recommendations for social distancing and allow four people at a time to wash up safely, we spaced the sinks with six feet between and a partition to guard facing hand washers. Since then, 2-sink and compact models have been designed, as well as an ADA model that's rolling out.
Touch-free faucets, soap, and towel dispensers added to the CDC compliance of the models.
And knowing that this virus isn't going away anytime soon, we made them durable and able to stand up over time, not something to be thrown in the scrap pile six months down the road.
The sinks are easily maneuvered into place with a forklift, a crane, or by just rolling along the floor on their wheels.
It didn't take long from an idea scribbled on a note pad before our director of manufacturing, Ryan Hoggatt, and his team, was fast at work on the pricing, ordering, and fabricating. And when I say, "it didn't take long", it was a couple days!
Spreading the word
With numerous team members cooking on all four burners, I started calling people, sending them the drawing of the sink, and explaining options. There was a flurry of conversations in one day as well as rapid-fire communication with Ryan! With numbers put to the sink cost, the orders were taken as fast as I could send them. Ryan and others also sold to their contacts. During times like these, it is impressive to see how our company comes together and gets things done. Heck, even our tool coordinator sold sinks!
Once we included our sales, BD and marketing teams with website, social media, and emailers, the flood gates opened. We even got a spot on the evening news on KIRO 7! And this all happened in a few days!
Three weeks later, we are selling more of these sinks than we ever even imagined. And it puts me in awe of what can happen with an idea scratched out on a note pad when it's followed by support from our field crew leaders, VCS, and manufacturing teams, not to mention all those who got the word out. The best thing is we are making a difference during this crisis. We are all in this together, and I'm proud of everyone who's making this happen!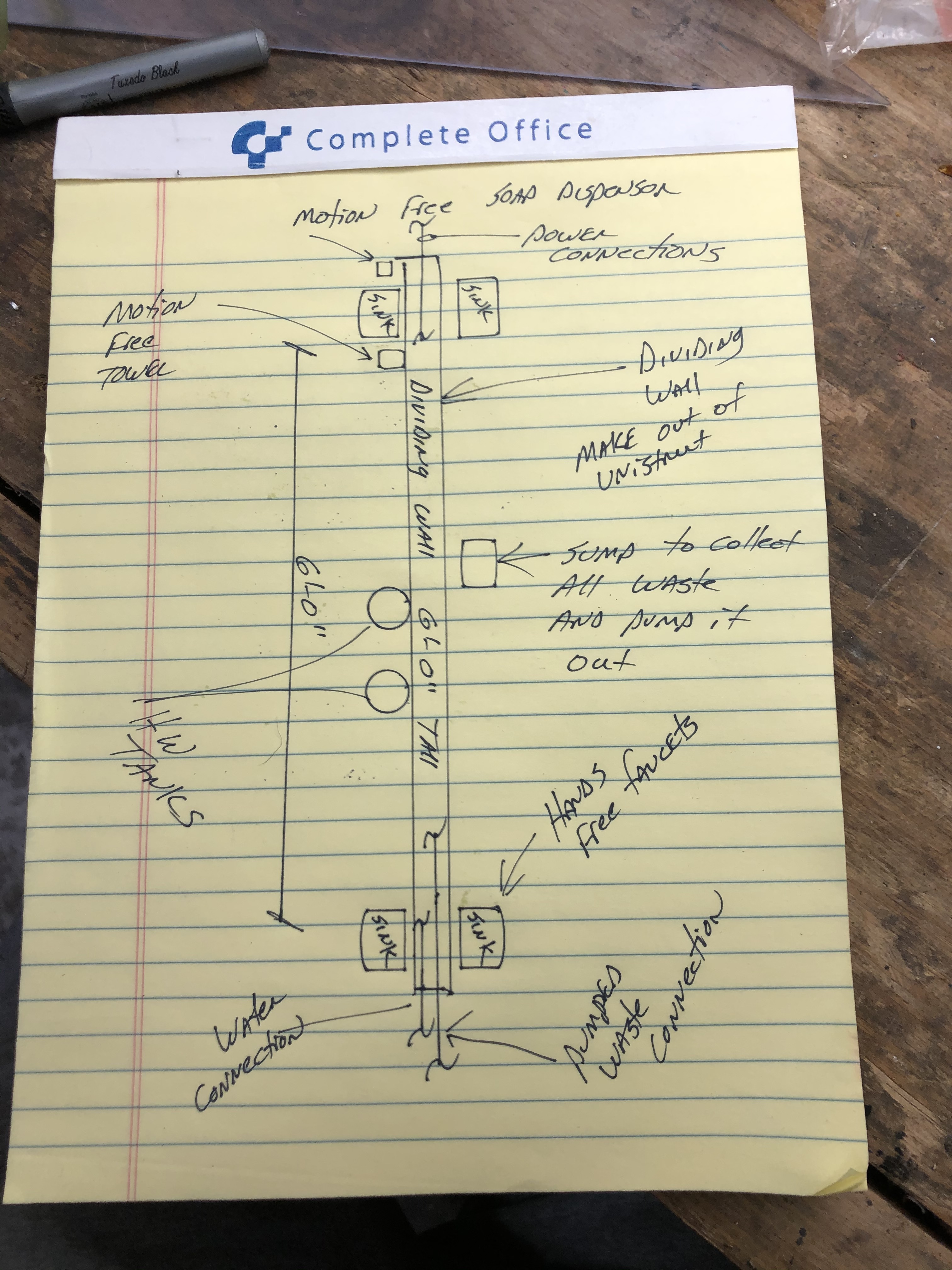 Questions or Comments?
For media inquiries or related questions, please contact info@umci.com