To mark the kick-off of a new month, we caught up with Camilla Yamada, UMC's Healthcare Market Lead, to talk about how she started working at UMC and how our teams' expertise makes it easier for healthcare organizations to do the right thing. This is, Healthcare with Purpose.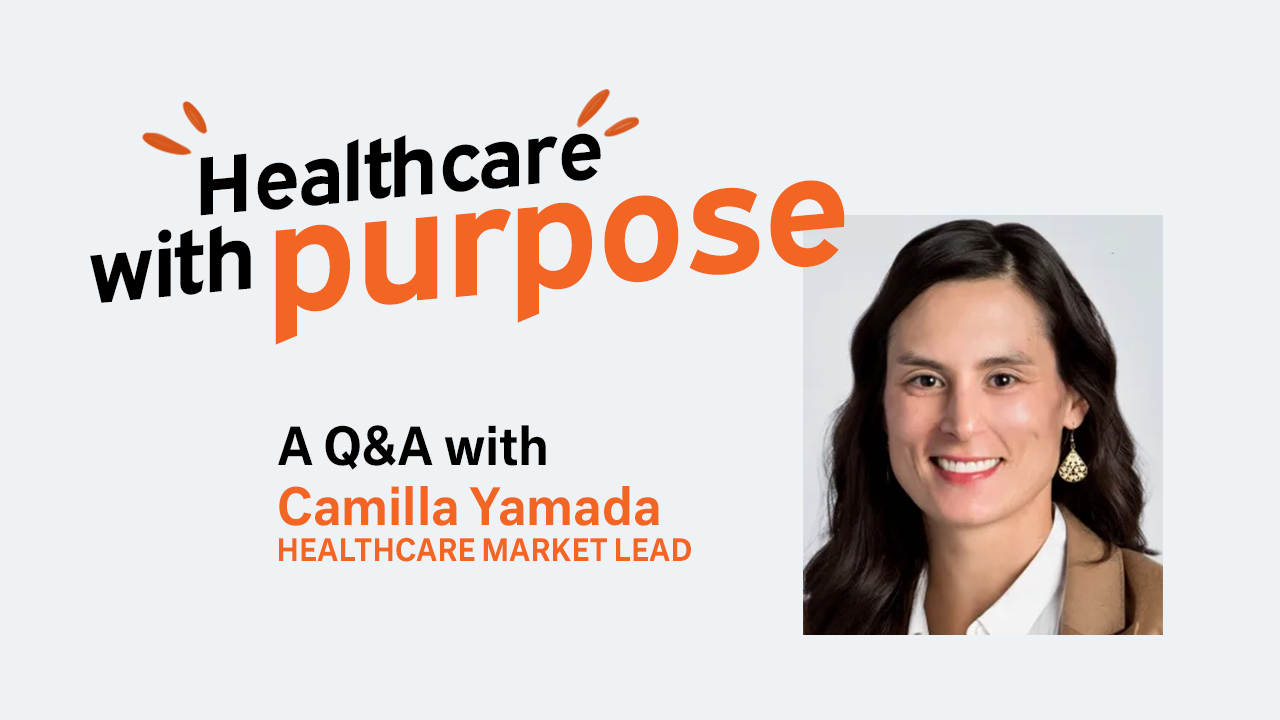 What sparked your interest in a healthcare / construction career?
I grew up in a family with four gastroenterologists. Medicine was the topic of most of our dinner conversations, and for a long time, I thought the only conduit to healthcare was to become a doctor. Right before I signed my life away to the University of Vermont Medical School, I started listening to my gut (pun intended) and decided to pursue my Master's in Disaster Medicine and Management. It was during this program that I started seriously considering other conduits into healthcare. I found myself completely enraptured by hospital infrastructure, and well, nothing much has changed. I've worked on both the hospital operations side and capital construction side, and both further enthralled my love of infrastructure systems. I like to spend time in mechanical rooms when I need to collect my thoughts or find my zen.
What does "healthcare with purpose" mean to you and to working in healthcare facilities?
One of the main reasons I joined UMC is its commitment to doing the work to become the healthcare mechanical contractor of choice. We are not there yet, but we are laying the foundation with purpose. "Healthcare with purpose" for me is the vision we are headed for. The mission is the work both internally and externally we need to do over the next 3-5 years to cement UMC's position as the healthcare mechanical contractor of choice. This includes being strategic about the projects and partnerships we pursue and scaling appropriately so that we are showing up for our healthcare partners with purpose.
From your time working directly for healthcare organizations, what current construction trends provide the greatest opportunities for positively impacting healthcare institutions?
One of the biggest advances I've witnessed in healthcare construction is the increasing prevalence of the American Society of Healthcare Engineers (ASHE) as the industry-recognized leader for healthcare construction and engineering. While ASHE has been around for a long time, the Covid pandemic reinforced the importance of sharing best practices and information among facilities. This is important because the opportunity to standardize processes across hospitals related to Infection Control Risk Assessments (ICRAs) and Pre-construction Risk Assessments (PCRAs) will lead to consistent expectations among vendors working on healthcare campuses. For example, ASHE recently published updated ICRA Guidelines that more clearly articulate the type of barriers (hard, soft, temporary, etc.) that should be used based on the duration, scope, and location of the work. Moreover, ASHE certifications including the Certified Healthcare Facility Manager (CHFM), Certified Healthcare Contractor (CHC), and Certified Healthcare Physical Environment Worker (PEW) are rapidly becoming prerequisites for working in hospitals on both the owner's and vendor's sides. Washington State Society of Healthcare Engineers (WSSHE) is our local ASHE chapter, and we are extremely fortunate to have such a robust chapter that truly promotes the transparent sharing of information to inform better patient outcomes. During last June's heat wave, each hospital chose the best mitigation strategy for their patients, which included everything from diverting patients to other hospitals or relocating critical patients to areas of lower risk. Clinical leaders have always excelled at informing other local hospitals if they go on divert, but I'm now seeing facility leaders sharing this information so that those in charge of the physical environment can be better prepared for an influx of unexpected patients.
What's different about working inside healthcare facilities versus buildings in other markets?
I think the simplest way to understand why healthcare facilities remain the most highly regulated market is to acknowledge that the Center for Medicaid and Medicare (CMS) is the government agency that reimburses hospitals and is the single most important authority having jurisdiction (AHJ) over hospitals. CMS assumes that spaces designated as healthcare occupancy (very different from business occupancy spaces) have four or more patients that cannot self-preserve in the event of a fire. This simple assumption is the root of all life safety codes as we must assume there are patients on ventilators, in the middle of surgery, or are receiving critical life treatments. Relocating these patients poses more harm than building smoke compartments or suites where patients can safely "shelter in place" until the fire is extinguished. This is why a hospital's barrier management program is paramount to patient safety. If penetrations above ceilings were left open, dampers are not opening and closing as designed, or cables and other miscellaneous ceiling items were draped over sprinkler lines, the integrity of the smoke compartment or suite is compromised. If we can't limit the passage of smoke between compartments, then we can no longer shelter in place, which is fundamental to the Life Safety Code. Hospitals rely on vendors to follow the rules to ensure that any work performed on a fire-rated wall only improves the resistance to the passage of smoke.
Another variable that makes healthcare construction unique is the guttural vulnerability patients and families experience at a hospital. Whether one is celebrating the birth of a baby or undergoing corrective knee surgery, the goal for anyone admitted to a hospital is to leave as soon as possible. As a vendor performing work on healthcare campuses, we are being entrusted by the entire continuum of care to perform our work exactly as intended to avoid adding any additional stress to an already vulnerable healthcare ecosystem.
MEP in healthcare is comprised of many different (hard) hats. In your opinion, what benefits does UMC bring to campuses?
In the couple of months I've been with UMC, it's crystal clear how dedicated every line of business (LOB) is to safety and quality. These are not just buzz words, they are ingrained in the culture. I recently asked senior leaders to take the ASHE offered Certified Healthcare Physical Environment Worker (PEW) exam as it is an easy way to help UMC stand out as an industry leader in healthcare construction. I was overwhelmed by the number of people that took this basic cert, and even more impressed that Steve Brooks, President, was the first person to accept the PEW challenge. This was one of the clearest displays of leadership I have ever seen, and it made me incredibly proud to work for UMC. Healthcare organizations are required to show that vendors performing work on campus are qualified and competent to perform said work. This is different but adjacent to our company's safety plan. Hospitals must demonstrate that they have defined the qualifications and provide clearly documented proof for each person performing work. PEW is quickly becoming a way to show competencies at the facility level, and I love that we are ahead of the pack on this initiative.
Another differentiator between UMC and other MEP shops is our ability to listen and simplify. It sounds elementary, but it's not easily practiced. We are not targeting facilities to sell them razzle dazzle, we are targeting facilities to help them optimize and understand their existing systems. The symbiotic relationship the team exhibits at Swedish Issaquah is a perfect example of this partnership. The facility team is incredibly engaged to drive towards an EUI of 100, and they are incredibly close with a current EUI of 106. It's the collective monthly brainstorming between UMC and Swedish Issaquah's facility team that is delivering the magic day after day. This type of teamwork is irreplaceable, and I'm beyond excited to help catalyze these types of relationships at other hospital systems.
What are a few key considerations that help drive a successful healthcare project?
The most successful healthcare projects I've been a part of are the projects where we operated as a united team. We knew there would be unforeseen conditions, but we had the best interest of the hospital at heart. When that drives the work, it makes the project aches less severe and promotes an environment where people innovate together. There is no blaming or scapegoating, but acknowledgement that mistakes do happen and learning from them is the goal. We build a culture of trust and transparency, so nobody is surprised about change orders and scheduling delays. Instead, we focused on driving towards the solution together and have a whole lot of fun along the way.
What do you enjoy most about being part of the UMC family?
There are two things that immediately come to mind, though I could easily write a 1000 YELP reviews because my first 60 days have been incredibly rewarding.
UMC has incredible ambitions and the humility to achieve success. I love that UMC is committed to improving and recognizes that there are areas where we can be better. This type of growth mindset is paramount to becoming the healthcare mechanical contractor of choice.
The UMC orange just might be my new favorite color. Huge fan! As soon as there is an orange puffy available, good luck finding me not wearing it.
If you aren't working what are we most likely find you doing?
I recently purchased an electric bike and I'm giddy about it. I live in Queen Anne and those hills are no joke. I have lots of family that live in my neighborhood, which is a great enabler in my quest to avoid cooking as much as possible. My daughter and I usually have dinner with family a few or more times a week. I'm a naturally competitive person, so there's always some random game happening in my household. I also live in a former commune called The Love Israel Family, which is definitely worth an internet rabbit hole.
Questions or Comments?
For media inquiries or related questions, please contact info@umci.com