According to the Agency for Healthcare Research and Quality (AHRQ), "Healthcare-associated infections (HAIs) are among the leading threats to patient safety, affecting one out of every 31 hospital patients at any one time. Over a million HAIs occur across the U.S. healthcare system every year, leading to the loss of tens of thousands of lives and adding billions of dollars to healthcare costs." [i]
As mechanical and plumbing construction workers spending a great deal of time performing work in healthcare settings, UMC's teams recognize that there is a significant difference between working on an office building verses a healthcare building, especially in occupied spaces. Infection risks for patients, patient privacy and comfort, communication with doctors and nurses, life safety protocols, and specialized medical equipment are just a few of the many unique considerations a worker is faced within healthcare facilities. Today, with COVID-19 in our midst, these considerations are more pronounced than ever.
Every action our workers take in a healthcare facility counts, from protecting patient spaces from foreign particles to displaying proper demeanor when walking through a facility. If one of our workers steps into an elevator with a patient, that patient may have just been told they have cancer. That worker needs to understand that how they act around that person makes a difference. In fact, any work they perform or any interactions they have that day can have an impact on someone's health and well-being. This is not necessarily the case in some other facility types. It's also not something that is top of mind for workers when focusing on the job at hand.
Inspiring understanding through education
Five years ago, UMC's team of experienced healthcare foremen and superintendents set out to find a tailored training program for construction workers who work in healthcare environments. To their dismay, they found how little healthcare education for workers there was, even on issues as basic as how common mold can affect immune-suppressed patients. At that point, the team decided to develop their own specialized training program that would take into account the uniqueness of the healthcare environment and provide in-depth education for construction workers to ensure patient and staff protection and respect on new construction projects, remodels, equipment tie-ins, and maintenance for healthcare facilities. They named the program HELP3—Healthcare Educated Labor, Providing Patient Protection.
The HELP3 training is an awareness program that provides our team with the knowledge and skills to plan for and execute work in these critical environments. The program focuses on our healthcare clients' priorities: patient and staff safety, comfort, and privacy. From how to build and test infection control barriers to how we communicate with staff, this program instills understanding and respect in our workers who learn that patients' health and well-being are always at the top of the priority list. HELP3 parallels UMC's long-held dedication to a strong work ethic and attention to detail that focuses on safety, communication, coordination, and respect.
A collaborative effort
Creating a comprehensive training program like HELP3 is a mammoth effort, one that can't be done in a vacuum. A group of UMC's best and brightest healthcare experts came together to consolidate their knowledge, research directly with healthcare counterparts, and talk directly to healthcare staff and facilities people. They gathered input from representatives through years of experience with Seattle Cancer Care Alliance, Swedish Medical Center, Fred Hutchinson Cancer Research Center, and Pall Corporation - Medical. From this research a series of 15 training modules were developed to educate workers in the intricacies of the healthcare environment and how to carry out their work in these facilities without negatively impacting the health and quality of care for patients or interrupt the crucial duties of the hospital staff members.
What does HELP3 training cover?
There are 15 HELP3 training modules that are taught during a 10-week program. A minimum of two to four hours of training are spent for each module. The graphic below depicts the topics that are included in the training. Trainees are quizzed and tested on all these subjects and come out of this training better prepared with awareness to safely work in healthcare facilities.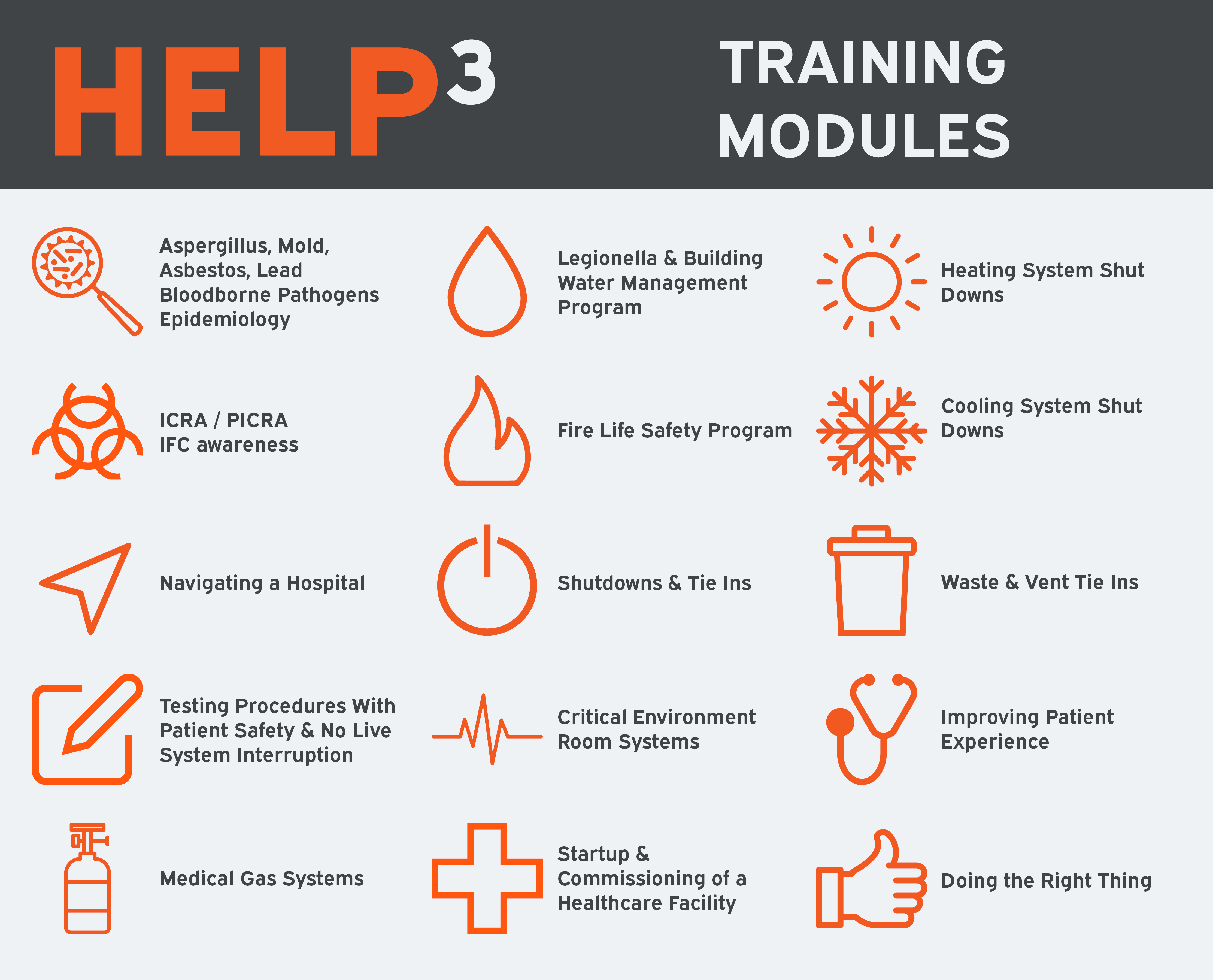 What's next for HELP3?
Additional modules are being developed and added to the HELP3 training program as we learn more from science on patient protection and as enhanced protocols are introduced. There's no doubt that lessons from 2020 will bring new considerations to light that will become standards our workers need to understand. Our people are passionate about doing the right thing for our clients and the patients and staff that can be affected by construction work in healthcare environments. Our goal is do quality work in the facilities while remaining invisible to those who have more urgent things to think about. HELP3 gives us the knowledge to accomplish that goal.
[i] https://www.ahrq.gov/hai/index.html
Questions or Comments?
For media inquiries or related questions, please contact info@umci.com