With the weather starting to get warmer and summer fast approaching, UMC is welcoming interns left and right! Rather than sticking our interns in a corner cubicle and asking them to fetch coffee, we integrate them into the business. Part of that includes getting to know more about them, including their goals, and passions.
Without further ado, let's meet the UMC summer 2022 interns!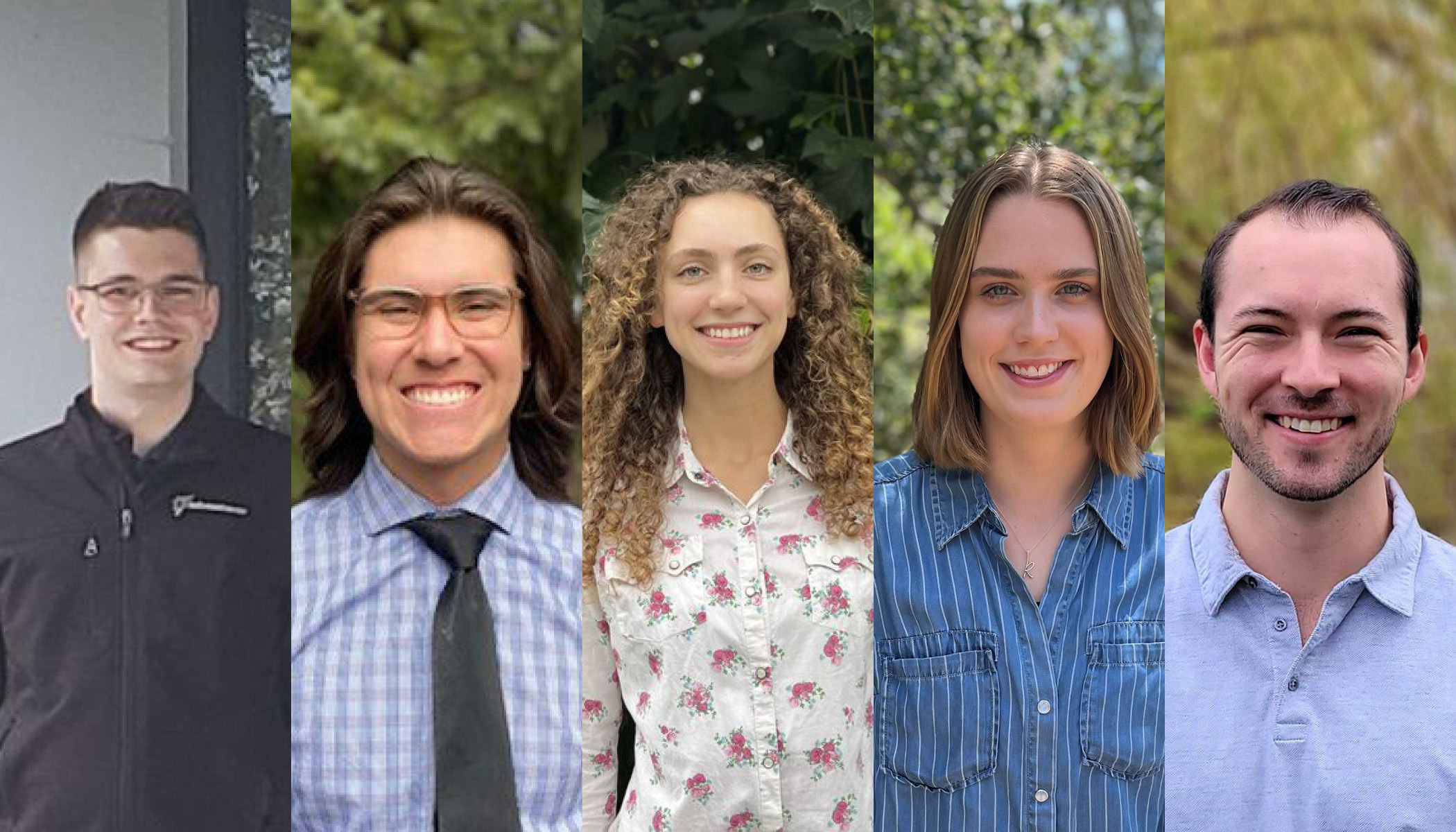 Where do you go to school? What are you studying?
Brenton Smith: I just finished my freshman year at Brigham Young University – Idaho. I'm majoring in Virtual Design and Construction, and I'm currently considering declaring a minor in English with a cluster in professional writing and editing.
Jake Darrow: I will graduate from Washington State University in Pullman December '22 with a bachelor's degree in mechanical engineering. Go Cougs!
Griffin Rinauro: I am currently studying mechanical engineering at Washington State University and will be a senior in the fall.
Katie Kellum: I study mechanical engineering at California Polytechnic State University (Cal Poly) in San Luis Obispo.
Tatum Dalgleish: I go to the University of Washington and am studying mechanical engineering.
Why did you apply to intern at UMC?
Brenton Smith: Ryan Hoggatt (UMC's Director of Manufacturing) reached out to me over LinkedIn when he saw a post I had made about looking for internship opportunities for this summer. I had not heard of UMC before, but once I found out that the company worked in the Seattle area and I saw the company's project portfolio, I was very interested in joining the team!
Jake Darrow: I was inspired to apply after speaking with David Babington at a WSU career fair. I was looking for an opportunity to hit the ground running and experience the mechanical contracting world. UMC exceeded my expectations for how a company should act.
Griffin Rinauro: My dad works HVAC up in Bellingham and used to take me on work trips as a kid. He mentioned how he had done work with people from UMC before and thought they were a great company that cared about its people.
Katie Kellum: I really liked that UMC strives to find innovative solutions that truly benefit the customer. It is also nice to work for a company that cares about its people, and I have heard great things about the work environment here.
Tatum Dalgleish: I have been interested in civil engineering since my freshman year of college, so I thought that interning with a mechanical contracting company would be the best fit for me. It seemed rewarding to think that projects I might help build would be used by hundreds or thousands of people.
What department or project(s) will you be working on during your internship?
Brenton Smith: I will be working in VCS.
Jake Darrow: I am on the industrial team under Aden Rich.
Griffin Rinauro: I will be working on the Major Projects team and helping with the new Meta and Google buildings.
Katie Kellum: I am working in the Industrial Group, starting on the Matrix Tool Install and the ODR Clean Room. However, I might be helping with different things as I'm needed.
Tatum Dalgleish: I will be in the engineering department working on the HVAC and plumbing systems of larger scale projects.
What is one thing or skill you're hoping to learn at UMC?
Brenton Smith: I want to develop firsthand knowledge of how a construction project progresses from start to finish. I do not have experience with commercial construction, and while I've learned general overviews of the construction process in my classes, this internship is a good opportunity for me to dive headfirst into learning the real ropes of this sector of the industry.
Jake Darrow: I am looking to hone my communication skills while at UMC.
Griffin Rinauro: I am hoping to fully understand the different heating and cooling components of a building and describe why they are necessary and how their specifications can be determined.
Katie Kellum: Most of my classes focus on design and calculations, so I am excited to see how those are applied in a business setting. I can't wait to learn how all the various parts come together to get a job done.
Tatum Dalgleish: How to use CAD to model. I know I will need to use this program a lot after graduation.
If you had one extra hour in your day, what would you do with that time?
Brenton Smith: I would like to spend that time reading or practicing creative writing.
Jake Darrow: I would take the extra hour to make sure I could play music every day.
Griffin Rinauro: I would probably go to a music store. I love collecting vinyl but more recently have been listening to CDs too!
Katie Kellum: Honestly, as a busy college student I would probably just sleep more.
Tatum Dalgleish: Learn to cook better meals...the only meal I can cook right now is tacos.
What is something big or small you're really good or bad at?
Brenton Smith: This is quite literally a very small thing; I paint miniatures for games like Dungeons & Dragons and Warhammer 40,000! I'm still learning how to do it, but I'm very detailed oriented and I'm able to paint very precise details on models that are only 28 millimeters tall. I have a lot of fun trying new painting techniques, characters, and color schemes.
Jake Darrow: I have been playing the upright and electric bass for 12 years.
Griffin Rinauro: I am really good at making videos. I used to make engineering YouTube videos for a research lab but more recently have been making them for fun in my own life.
Katie Kellum: I like art, especially drawing, and I have definitely been getting better at that recently. However, I am not much of a chef, so cooking is an area I am trying to improve in.
Tatum Dalgleish: I would say I have a pretty good singing voice, but I am terrible at public speaking (or singing).
If you could snap your fingers and become an expert in something, what would it be?
Brenton Smith: I would want to be an expert at piano, or brass instruments (I was a band kid in high school). I enjoy playing from time to time, but I never established a regular practice regiment to take my abilities to the next level.
Jake Darrow: I'd become a chess grand master.
Griffin Rinauro: I wish I could understand computers better. I have always wanted to build my own and understand all the components of what makes it work.
Katie Kellum: I would want to be fluent in multiple languages. I think that would be really cool and helpful.
Tatum Dalgleish: Not sure if this counts as an "expert" but I would want to become a great pianist. I think that is the coolest skill in the world to have.
When you were younger… what did you want to be when you grew up?
Brenton Smith: I went back and forth between lots of different dream careers. For a while I was determined to make video games, but after being involved in band in high school, I really wanted to become a music professor. Then after taking an architecture class my senior year of high school, I wanted to become an architect.
Jake Darrow: I wanted to be an engineer like my father.
Griffin Rinauro: I wanted to be a famous movie star.
Katie Kellum: The very first thing I remember wanting to be was a professional soccer player, but after that, it varied a lot. It included everything from graphic design to acting and producing to being a doctor. Overall, I've always been attracted to jobs that allow for creativity and give me the opportunity to work with my hands and to help those around me.
Tatum Dalgleish: An astronaut! I did Air Force ROTC my freshman year of college because I figured the military would give me the best chance of becoming one.
What are your goals after you graduate?
Brenton Smith: Right now, when I graduate, I would like to jump right into the industry as a VDC engineer! I'm not sure if I want to specialize in systems modeling or visualization, but I still have a few years to figure that out. And while I'm not currently planning on it, I'm also open to the idea of going to graduate school to become an architect.
Jake Darrow: My goal is to start my career on the westside and live with my parents to save up to buy a house!
Griffin Rinauro: I want to pursue grad school in mechanical engineering before settling as an engineer somewhere in Washington.
Katie Kellum: I want to keep developing my skills as an engineer, hopefully by working on creative solutions that make an impact on my community.
Tatum Dalgleish: I'm not sure yet. I'm deciding between going back to school for a masters, or to just jump right into the workforce. Hopefully, this internship will provide some clarity.
Questions or Comments?
For media inquiries or related questions, please contact info@umci.com