Originally featured on the DJC Seattle. CLICK HERE to view the article.
Next level safety — breaking the mold
In a world dominated by strict regulations, rules, and monetary penalties, safety professionals and managers are faced with the daunting task of motivating their teams to achieve safety excellence. While many consider safety excellence to be merely meeting compliance standards, avoiding fines, and maintaining statistics below the industry average, we need to broaden our perspective and redefine what true safety excellence entails.
Imagine a utopian safety culture, where safety is not just a priority, but a deeply ingrained value. A culture where employees are not merely complying with regulations, but actively engaging in safe practices and encouraging others to do the same. In this culture, safety is not simply a checklist, but a way of life. UMC is living that culture.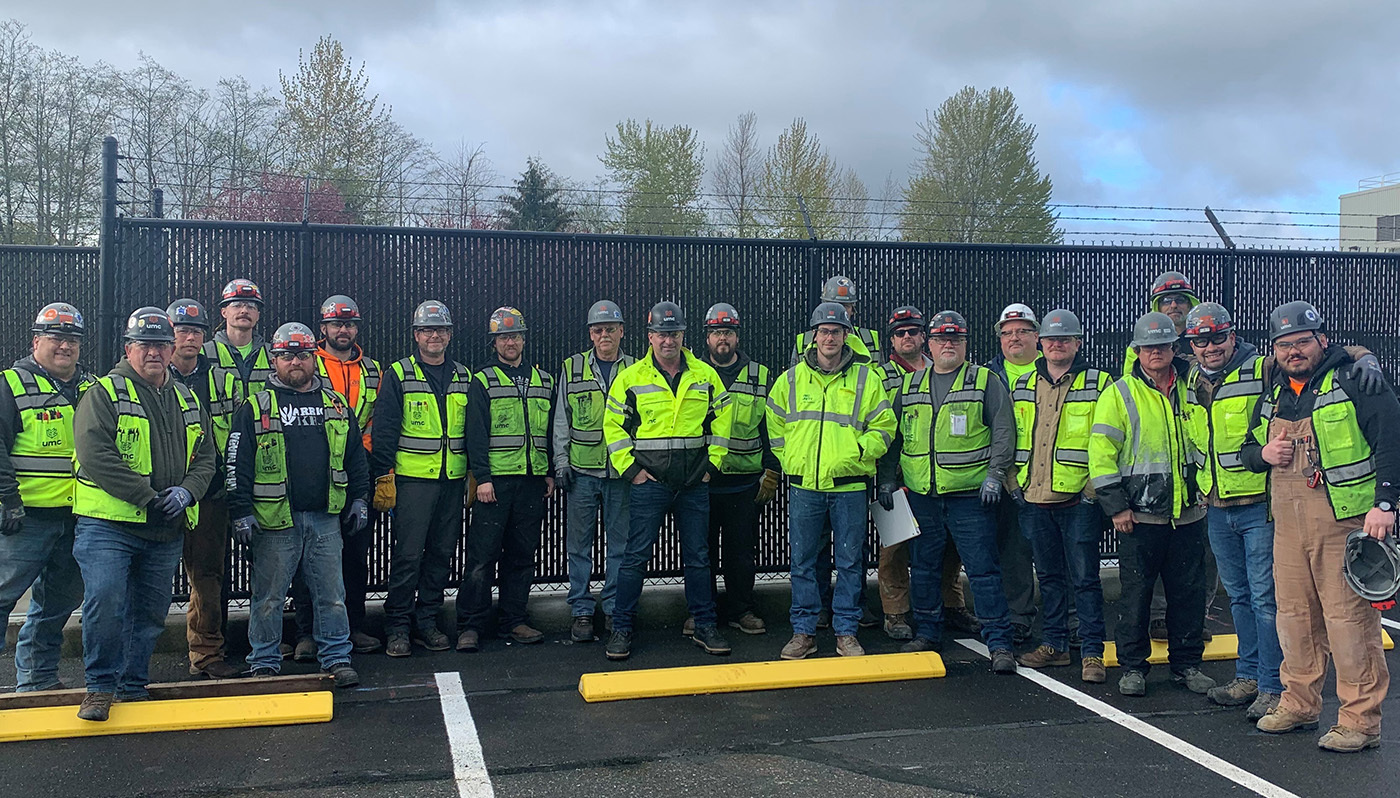 FROM "HAVE TO" TO "WANT TO"
Over the last decade, UMC's leadership established a unique safety program aimed at inspiring the overarching principle that motivates crews to work safely and look out for one another — pride. Dubbed "Pride-Based Safety," our program is based on knowing you are doing the right thing at the right time for the right reasons, especially when no one is looking. Attitude is an essential element that sets the Pride-Based Safety program apart. Employees no longer have the "have to" attitude, but instead are motivated by pride in that they work safely because they want to. Everyone is empowered and responsible for their own safety and that of their co-workers.
Our Pride-Based Safety culture consists of simple yet powerful strategies that strive to constantly keep safety top of mind. UMC workers base their actions on the job on the five Pride-Based Safety mantras:
Lead by Example. Do the right thing, not because it is a rule, but because it is right.
Own Your Zone. Evaluate your work area to ensure it is clean, organized, and hazard-free.
5 for 5. Every 5 minutes do a 5-second visual risk assessment.
Know When to Stop. If you are unsure, STOP, ask, and get more information.
Engagement & Inclusion. Align everyone as an integral part of the team, influencing overall performance.
TEAM EFFORT AT EVERY LEVEL
At UMC, the "safety team" is an inclusive concept that resonates at all levels of the organization. Each employee is respected and recognized for the crucial role they play on the team. All employees are empowered to take a leadership role in safety. Top management provides the resources for safety materials, training, equipment, and recognition. Middle managers lead safety by words and actions on the jobsites. Frontline workers are recognized as job experts who diagnose problems and formulate solutions.
As safety director and a member of the UMC ownership group, I walk our jobsites often. I have evolved my safety director role from that of an inspector/enforcer to a safety consultant, and have taken on leadership roles in several important associations. As the business co-chair on the Washington State Construction Advisory Committee, I work closely with Washington State Department of Labor & Industries and the trades to advise and educate the industry. I am also a national safety committee member of the Mechanical Contractor Association of America. This allows me to advocate for safety across our industry.
The cornerstone of our safety program is the middle managers — foremen, superintendents, and project managers. They are responsible for leading by example, risk assessments, reporting and investigating all jobsite accidents and near misses, providing the necessary personal protective equipment and training for all workers, safety planning, site safety audits and housekeeping, reporting, and correcting unsafe conditions in a timely way, and advocating and enforcing UMC safety policy. Through their commitment to safety, they create an environment of security and wellbeing that permeates every aspect of our work culture.
EMPOWERED AND SAFE: THE FUTURE OF SAFETY
True innovation is not developing a new policy or using a new tool. It is a philosophy to think differently and do differently. Recently, data analyzed by the Centers for Disease Control and Prevention showed that the construction industry has the highest rate of suicide at 53.2 per 100,000 U.S. workers. That rate is four times greater than the national average and five times greater than all other construction fatalities combined. In light of this sobering statistic, we were prompted to take a hard look at our existing program and explore ways to better support the mental health and wellbeing of our workforce.
Building upon UMC's successful safety standards, the fifth mantra "Engagement & Inclusion" was added to the Pride-Based Safety program based on the need for psychological safety. Under this concept, people not only feel physically safe, but psychologically safe in their work environment. They are empowered to speak up and take action, knowing that everybody is working toward the same goal with support.
I like to use the "pit crew" analogy: A NASCAR pit crew consists of individuals where each person has a unique expertise to contribute to the main goal — getting the car over the finish line. Each person on a construction crew is an integral part of a highly skilled team that brings individual skills and works seamlessly together on the front lines and behind the scenes to successfully complete the project. If we treat our people like all they do are "change tires" and "pump gas," and their role is less important than someone else's, that's how they are going to show up. When people are treated like highly trained passionate crew members, applying their talents to reach the goal, pride in their individual roles shines through. This inherently brings with it a deeper appreciation of diversity, inclusion, and teamwork.
This is not a training program, but a different way to engage individually with each team member. We have piloted our Engagement & Inclusion way of thinking with our foremen and trained the concept to our peers in industry training where we have garnered rave reviews. We have already seen a considerable change in motivation and engagement. These micro-missions keep every member driving towards common goals with unlimited support. All decisions and all resources are utilized with the mission's success in mind with 100% involvement.
PRIDE-BASED SAFETY: UNMATCHED PERFORMANCE
With more than 4 million field-hours over the past five years, less than half a percent of UMC employees have experienced anything over a first-aid injury. In the last five years, UMC has earned four National First Place Safety Excellence Awards and an AGC Grand Safety Excellence award. Even amidst schedules being more frequently compressed, major staffing increases, and post-pandemic fallout, the Pride-Based Safety culture continues to strengthen. Through pride, empowerment, and individualized champions of safety at all levels, UMC truly leads by example and strives to rewrite the story of what safety excellence looks like in the construction industry.
With more than 26 years working in construction safety roles, Kirk Baisch is the safety director and part of the ownership group at UMC. During his 15-year tenure at UMC, he has been instrumental in shaping the firm's stellar safety culture and elevating its construction safety performance beyond expectations.
Questions or Comments?
For media inquiries or related questions, please contact info@umci.com