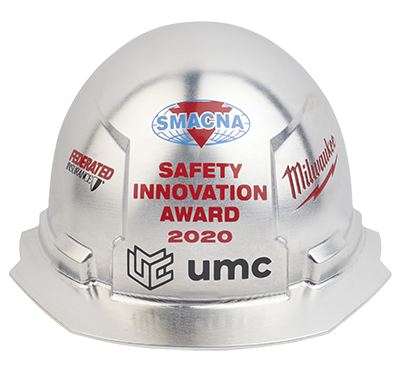 SMACNA represents outstanding quality and excellence in the sheet metal and air conditioning industry. SMACNA's Safety Innovation Award celebrates companies in the industry setting the standard for innovative safety programs. Read the full award announcement from SMACNA HERE.
Out of 18 entries, UMC is proud to be named the 2020 SMACNA Safety Innovation Award recipient. At UMC, we believe a successful jobsite is a safe jobsite. That's why we step up to every challenge with careful planning and execution at every stage of a project. Our frontline workers, foremen, and project managers watch for any possible opportunity for improvement, frequently delivering outstanding innovations that have helped us become the most dynamic and advanced mechanical contractor in Washington.
In addition to a specially designed trophy, the award program's co-sponsors Milwaukee Tool and Federated Insurance have provided a $2,500 donation to our charity of choice.
At UMC, we believe in giving back to our community in meaningful ways that truly make an impact and have chosen the Salvation Army as our charity of choice.
Questions or Comments?
For media inquiries or related questions, please contact info@umci.com