Reimaging client gifting in a trying time, UMC's 2020 holiday campaign is recognized by leading marketing organization.
The SMPS Seattle Reign Awards recognizes excellence in marketing communications and outstanding achievements of top marketing programs in the AEC industry. At last week's virtual awards gala, UMC's 2020 holiday campaign won Best Digital Media Campaign.
"Awards like these are not only kudos for UMC's work; they offer opportunities for brand recognition, credibility building, employee pride, and attracting talent," said Sandy Chapin, Marketing and Communications Manager. "The 2020 holiday campaign summed up UMC's culture during a challenging year as one of respect, fun, flexibility, and giving back. We're very honored to be recognized by the local marketing and design community again this year."
Hotdog carts, coffee carts, wine tasting events complete with UMC swag gifts and mingling at clients' offices, unique greeting cards, and hand-delivered gifts have long been UMC's norm. Enter 2020, COVID-19, and accommodating a socially distanced, virtual world. UMC's holiday campaign needed to respect employees' and clients' safety. So, we embraced the virtual medium, determined not to let the pandemic stop us from connecting.
Guiding principles for the campaign:
Make virtual campaign memorable, meaningful, and payoff our new brand and 100-year anniversary.
Deliver gifts to clients in a work-from-home world—no personal addresses.
Convey UMC's slightly quirky personality, without being disrespectful to people negatively affected by COVID-19.
Support those that have lost so much during the pandemic.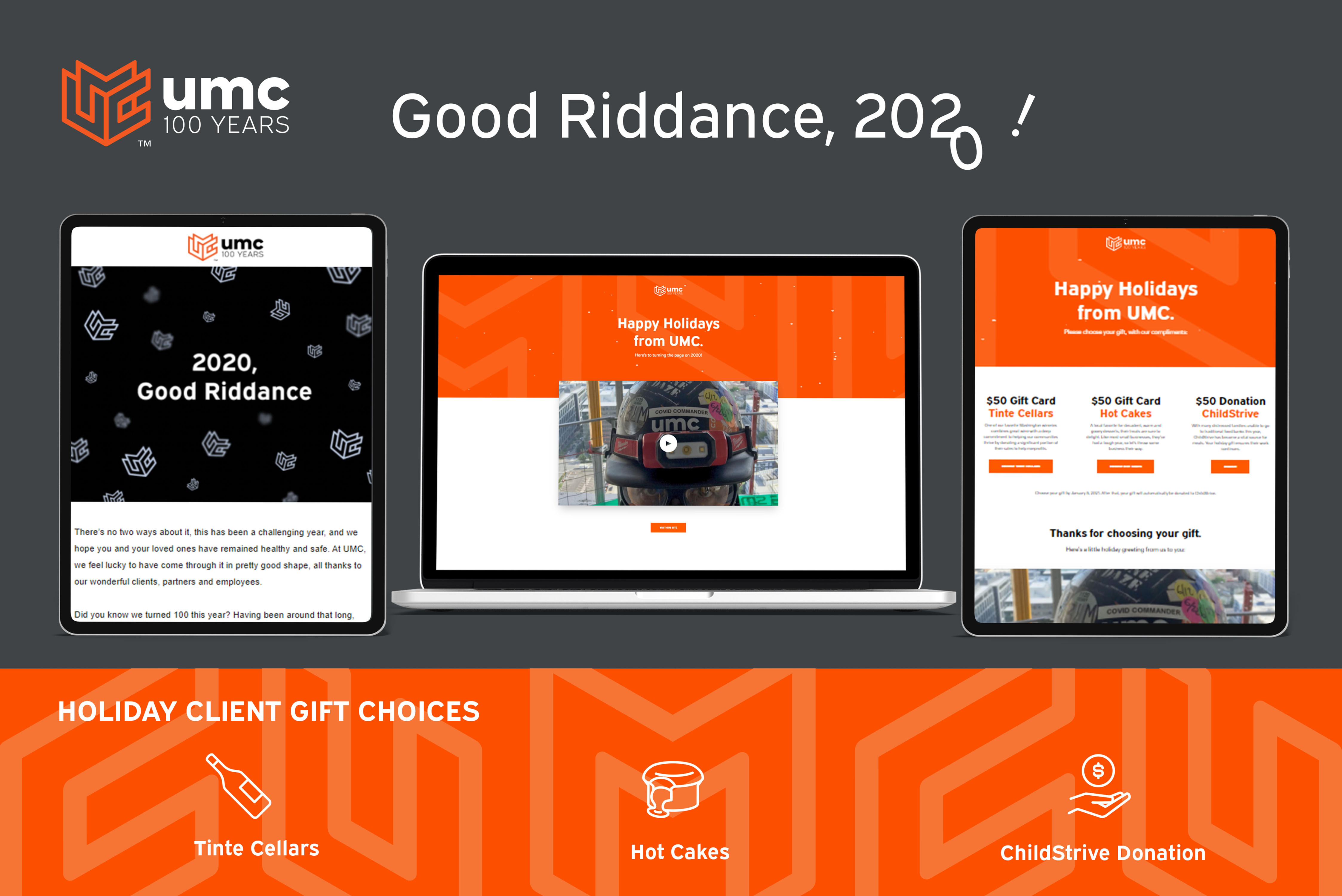 Through screens-on ideation sessions, we created the components of UMC's virtual holiday campaign:
Tasteful, yet quirky, video with a unifying message.
Branded holiday ecard in two versions:
General audience with message, greeting, and video.
192 top clients with greetings above plus three gift choices.
Gifting choices that give back:

$50 donation to ChildStrive to support distressed families.

$50 virtual gift card to Tinte Cellars, a portion of sales goes to nonprofits.
$50 virtual gift card to Hot Cakes, a local small business affected during COVID.
The campaign's community aspect struck a chord during COVID resulting in raising $8,750 for ChildStrive. One client said, "I wish more of our partners would do this. This keeps my health better and helps others in need with this kind of important support."
Questions or Comments?
For media inquiries or related questions, please contact info@umci.com