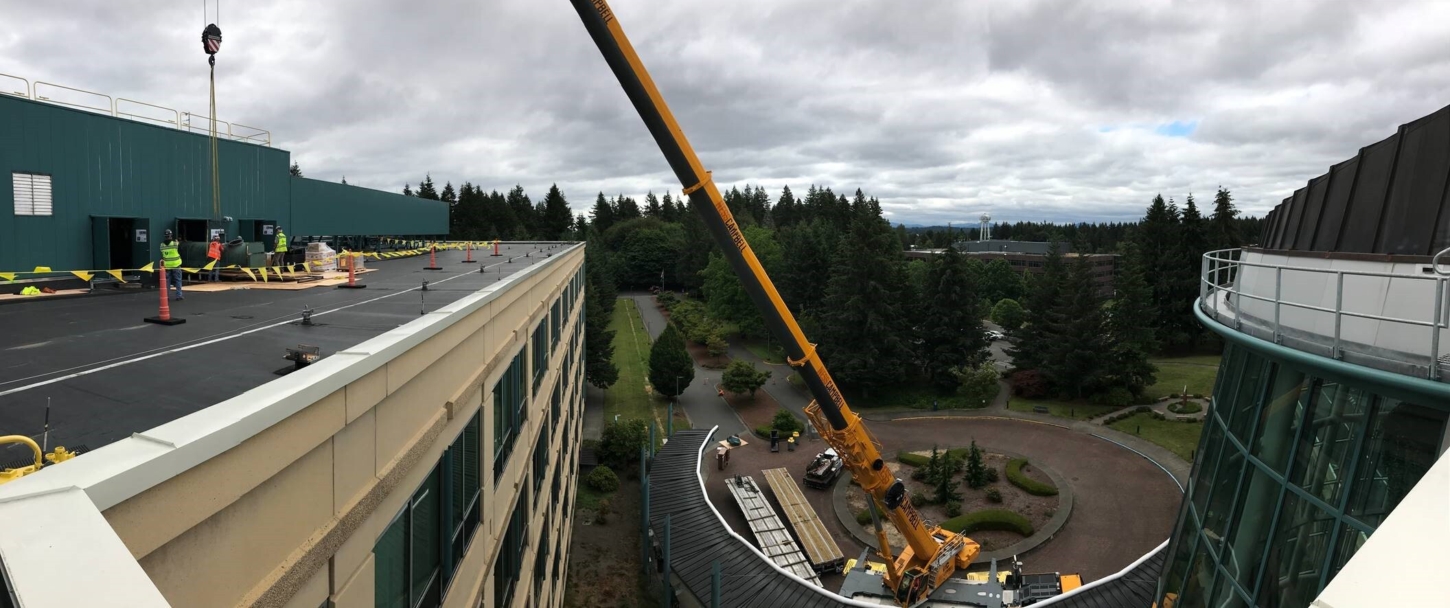 of
Portfolio
|

L&I Tumwater Building Infrastructure Renewal
A quarter of a century
Project Overview
Utilizing Washington state's ESPC program, UMC, Department of Enterprise Services and Labor & Industries collaboratively developed a long-term plan phased approach to renew the energy infrastructure for the Headquarters building.
Markets
Services Performed
Location
In 1995, Michael Jordan returned to the NBA, US space shuttle Atlantis docked the Russian Mir Space Station, and the WA Department of Labor & Industries (L&I) Tumwater building installed a new chiller. Now, 25 years later, Michael Jordan is retired from the NBA, SpaceX is the first private company to launch two astronauts to space aboard the Crew Dragon spacecraft, and UMC replaced L&I Tumwater's aging chiller.

UMC developed a plan to ensure building owners and tenants had the least amount of interruption. During a span of eight hours on a Saturday, the team successfully completed a crane pick of the old chiller, gas boilers, and associated pumps. The crane setup was established on a decorative brick rotunda and many points of collaboration were required to make this happen, including:

- Performing lock-out/tag-out procedures for the electrical disconnects
- Building landing platforms on the roof for the crane lift and setting roof protection
- Isolating supply, return, and make-up water valves to chiller, boilers, and pumps
- Evacuating refrigerant from chiller and storing in containers
- Demoing old chiller for crane lift and haul away

The 25-year-old chiller and associated systems were replaced with efficient and cost-effective solutions that will result in a more energy-efficient future along with improved tenant comfort. Now, we call that a win-win!
10,745 lbs
Total crane load
Priceless!
TENANT COMFORT IMPROVEMENTS
Contact
Work with us
Ready to collaborate on your next project? We're all ears.
Careers
Join the team
We seek folks who are as bold with their ideas as they are exceptional in their craft.