We are pleased to announce the new hires that have joined us and proud to celebrate the promotions that have been awarded throughout 2021.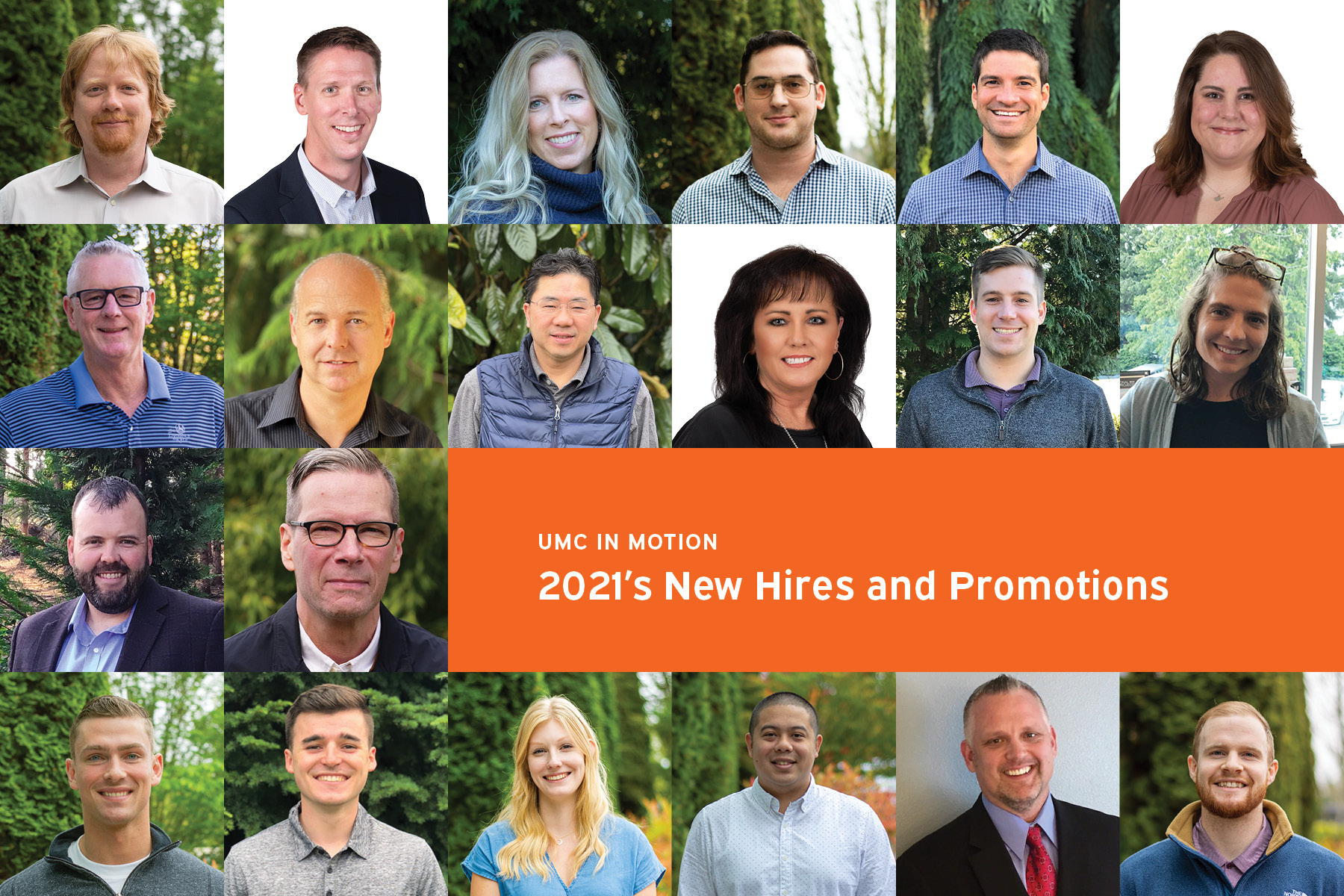 LEADERSHIP, DIRECTORS, MANAGERS, AND BUSINESS DEVELOPMENT.

In March, UMC announced that following a successful 20-year tenure as both the company's President and Chief Executive Officer, Jerry Bush transitioned to the role of Chief Executive Officer and Steve Brooks assumed the role of President. Brooks was unanimously elected by UMC shareholders on March 5th. This transition is part of UMC's strategic succession plan that was implemented in 2012.
Darren Young joined UMC to lead the strategy, implementation, management, and support of construction and manufacturing across UMC as the Director of Construction Technology for virtual construction.
UMC welcomed Dave Gough to our team as the Operations Manager within our facility services group (FSG). He is tapping into his 37 years of experience to create a scalable service deliverable that will streamline processes and support our anticipated growth.
With 20 years of experience delivering leading-edge and emerging technologies to the AEC industry, Brian Presnell joined UMC's reality capture line of business as a Senior Business Development Representative.
Michael Severson joined our industrial line of business as a Business Development Manager where he focuses on building and managing relationships and developing strategies for success in various industrial markets across the Pacific Northwest.
Anthony Shdo recently joined UMC as the Controls Sales Manager for our building automation and controls group. In his role, he will be at the forefront of our controls sales business and continue to support the continued growth of the group.
Brian Hurley recently joined UMC's Special Projects Group as an Account Executive. He will be focusing on providing continued service to our existing clients while simultaneously expanding UMC's presence in the Tenant Improvement marketplace.
UMC also welcomed Christopher Betlach, IT Manager and promoted Aaron Moore to Controls Operations Manager; CV Nguyen to Design and Construction Manager; Melissa Feiler to Tool & Equipment Manager; Sandy Chapin to Director of Marketing & Communications; Leah Curulla to Marketing & Pursuit Manager; and Jessica Bobinac to Communications Manager.
PROJECT MANAGERS, CONSTRUCTION MANAGERS, PROJECT ENGINEERS, AND PROJECT COORDINATORS.
UMC promoted Joe Alvarez to Construction Manager; John Shine to Project Manager; Jag Singh to Account Manager; Ray Portello to Project Manager; Shawn Ganal to Virtual Construction 3D Scan Technician & Coordinator; Joe Bray to Account Manager; and Mark Hauglum to Energy Engineer.
UMC welcomed Jason Jacobs, Project Manager; Ryan Kodramaz Project Manager; Paul Priest, Project Engineer, Jeffrey Meeker, Project Engineer; Cole Hanan, Project Engineer; William Douglas, Project Engineer; Bryan Granados Rodriguez, Project Engineer; and Chrystina Ouimet as Project Coordinator.
OPERATIONS AND SUPPORT.
UMC promoted Chongpao Saeyang to Construction Technologist; Rigoberto Loreto to Construction Technologist; Stephanie Vogt to Lead Customer Service Representative; and Sydney Armitage to Account Development Specialist.
UMC welcomed Elisa Anway, Estimator; Walter Wampler, Estimator; Stafford Winn, IT Help Desk; David Estrada-Echegaray, Design Engineer; Alberto Sanchez, BIM Specialist; Jennifer Khalema, Marketing Specialist; Martha Herman, Lead Development Representative; Caitlin Perez, Manufacturing Operations Specialist; and Jamie Francis, Contract Administrator.
Questions or Comments?
For media inquiries or related questions, please contact info@umci.com